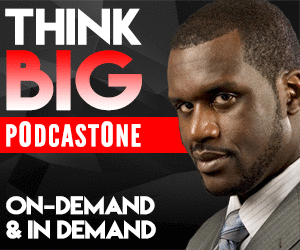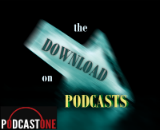 The Download on Podcasts, a weekly feature covering the development of podcasting as a vital audio category, is sponsored by PodcastOne.
Podcasts are on-demand audio programs, growing quickly in audience, programming, and revenue.
---
Podcast listenership is growing. But … faster, faster! That seems to be the impetus behind the #trypod movement, which admonishes listeners to publicize their favorite shows.
A new study, from the Knight Foundation is focused on interviews with Foundation grantees. Citing a philosophy of working alongside those organizations, the foundation identified key themes in the podcast industry.
How much is podcasting worth? Depends who you ask. It even depends on when you ask the same person. a new podcast ad-revenue projection is out this week, aimming for the half-billion level.
One year ago this column complained about Facebook's lack of native audio — a feature for users to post an audio file directly to Facebook, rather than linking out to it. Facebook's slight has been the world's biggest example of how audio takes a back seat to video. This week, Facebook abruptly turned its face toward the light (well, the sound).
Low barrier to entry — that is one of the appeals of podcasting, driving an explosion of content at the amateur, semi-pro, professional, and stardom levels. But there is a knowledge gap, and we are seeing it filled by educational initiatives that explain podcasting conceptually, as well as the technology and distribution.
With over 300,000 podcasts in the market, most of which are jammed into the narrow funnel of Apple's Podcasts app, it's no wonder that program discovery is a prominent pain point for consumers. Discovery is emerging as an issue for distributors, too — networks who are beating the bushes for talent to create new programs.
The podcast category is developing into a mature business market. Money is flowing in. Media buyers are increasingly interested in the podcast opportunity, with its distinctive qualities. But there are over 300,000 podcasts. It's a long tail of content. Two revenue paths are opening up for indie podcasts.
Ever since first getting wind of it, we have gotten a kick out of the name collision occurring between this column's title and the new collaborative research project of DMR/Interactive and Texas A&M University: The Download on Podcasting. We also learned more about what the year-long research project is hoping to achieve.
In an effort to standardize technical terms for podcast producers, networks, and metrics analysts, the Interactive Advertising Bureau (IAB) came out of the Labor Day weekend with a release of IAB Podcast Ad Metrics Guidelines. the document is especially effective when clarifying and defining the differences between downloading and streaming.
How do consumers listen to podcasts? When do they start, stop, abandon, complete their shows? In particular, do they hear the ads? How is advertising effectiveness verified? When those questions can be answered, advertiser buy-in to podcasting will increase. "API Listening" is one key to the future, and an industry buzzword in the present.
In a recent advertising conference, one head of creative services warned that programmatic advertising could kill podcasting. Right or wrong? There are several points to argue against the dire prediction.
Soon after Twitter launched, in March, 2006, it was dubbed a microblogging network. Podcasting is often compared to blogging. Is there such a thing as micropodcasting? One contender for that description is Anchor, a mobile-only app that invites users to connect with short audio voice recordings. Early adopters are passionate about it.
Many old guard radio shows are leaving the public airwaves these days. One, Michael Feldman's Whad'ya Know variety-quiz show, was abruptly cancelled by Wisconsin Public Radio, Feldman is making the leap to podcasting, hoping to continue a 31-year-old brand and migrate its audience.
When do we know that a media category has attained maturity? Many answers to that, the most viable probably being a thriving and sustainable financial ecosystem. But a more fun answer is when various groups give out awards designed to celebrate excellence and separate cream from crop.
Ten semifinalists were named in Radiotopia's "Podquest" contest. The 10 semifinalists are developing shows whose description illuminate cutting edge podcast creativity, and their topical descriptions cut an oblique angle through the traditional podcast categories presented by Apple. One winner will emerge. How will the other nine fare when Apple's old-fashioned categories have so much clout?
Nearly four out of five podcast listeners stream their shows, rather than downloading them, according to new survey results from Edison Research and Triton Digital. Yet metrics are still keyed to downloads, as with the Podtrac Ranking released last week. In addition, some podcast apps make streaming difficult.
The paid subscription model presents an opportunity for podcasting, and an experimentation phase seems to be underway now, and accelerating. Different networks are taking different slants in setting up paywalls. There are parallels with the streaming music business.
Audience measurement in podcasting is the most notorious issue that producers and network distributors face. But, infamous though podcast analytics are, not everybody is unhappy. One thing for sure though: Data drives digital audio forward.
The news that Pandora acquired its second streaming podcast deal underscores the sometimes uncomfortable division in how podcasts are consumed — download or stream? Technically, the difference is artificial. But it becomes more important as a usability issue, and in audience measurement. Several mostly-music services are prioritizing podcast streaming, and stretching the definition of podcast consumption.
After months of waiting, Google's on-demand music service, Google Play Music has launched its podcast section. In doing so, Google joins Spotify, Deezer, and Pandora by incorporating podcasts into a music-only catalog. Here are four things to know.
On a cross-country plane with in-flight entertainment, what are the options for podcast listening? Not many, but they do exist. It's a toe-hold to what could be an opportunity to spread even more awareness of podcasting among hundreds of millions of annual flyers.
Podcasting is outgrowing its early trappings, building its awareness and audience, attracting the interest and investment of more mature industries, becoming more professional and presentable. There is a growing institutional presence in podcasting, as media companies enter the field in various ways.
Podcat is a refreshing X-Ray view that reveals the personalities in podcasts — who's in and who's not. Along the way, you'll find some good shows you didn't know about.
Is Serial the most successful podcast ever? You'd think so, reading media hype about it. Confusion about podcast success metrics is a deeply rooted problem. Individual network solutions give early movers an advantage, and customized ad-serving technology is putting intelligence into the system too.
Nearly two years ago, an article that questioned why audio doesn't go viral, went viral. The article's complaint has not been fully answered. Recently WNYC posted one of its podcasts to Facebook, but had to wrap it in a video because Facebook doesn't have native audio. Podcasting might be the catalyst which changes the lack of social sharing in audio.
The second season of Serial has launched, before the first season's hype has expired. If a second phase of the podcast resurgence is at hand, what might the future bring?
Nearly two years ago, an article that questioned why audio doesn't go viral, went viral. The article's complaint has not been fully answered. Recently WNYC posted one of its podcasts to Facebook, but had to wrap it in a video because Facebook doesn't have native audio. Podcasting might be the catalyst which changes the lack of social sharing in audio.
Two recent innovations, from Pandora and Live365, indicate that podcasting is entering the realm of lean-back Internet radio. If it becomes a trend, podcasts could be woven more tightly into the streaming audio ecosystem.
Advertisers are interested in the marketing opportunity of podcasts, and will get more serious about it if audience measurement improves. Those are the main points of new research conducted by Westwood One, Advertiser Perceptions, and Ipsos, just released by Westwood One.
NPR, some of whose podcast programs reside near the top of the iTunes podcast charts, has created a new podcast directory called Earbud. Good name. And it's an effective counterpoint to the impersonal, data-driven Top 100 lists on iTunes.
The announcement from Google that it would add podcasts to its Play Music interactive music service shines a light into the gloomy and under-competitive realm of podcast discovery in Android devices. But it's a relatively dim ray of light compared to the bold discovery paths that Apple provides to its audio users.
Politicians on podcasts — is it the new thing? If so, it started withu President Obama on Marc Maron's show, and is continuing with Donald Trump's booking on Larry King's podcast.
Farnoosh Torabi, host of So Money, talked to RAIN News about how she produces her popular program, and the careful planning that led to its launch. Torabi explains her audience-growth success tactics, and the importance of podcast transcripts.
Podcasting is an ultra-personal genre of audio. But every passing month brings more known media brands into the space with specialized on-demand audio. The result? Increasing professionalism in the category. High-quality production is becoming table stakes in the podcast gamble.
A new study finds that people stick with short podcasts more than long podcasts. Obvious? Maybe, but podcasting is replete with 60-minute (and longer) shows. The new research also addresses other audience habits.
The resurgence of podcasting is mostly publicized as an entertainment genre with public-facing shows in the "B2C" category — Business To Consumer. Increasingly, attention is shining on "B2B" podcasting (Business to Business), and the trend harkens back to how blogging evolved.
Three weeks after annuncing a 30% equity investment from Hubbard Radio, podcast network PodcastOne has hired five sales/marketing executives and expanded its sales effort from home base Los Angeles to New York, Chicago, and Dallas.
The IAB announced a podcast "upfront" where several content and ad-repping compnies will present their shows to advertisers and agencies. Another mile-marker in an evolving industry of on-demand audio.
In the space of two weeks, Midroll Media was wholly acquired by the venerable media company E.W. Scripps, and PodcastOne (sponsor of this weekly column) was partially acquired by Hubbard Radio, which bought into a 30% equity stake and collaborative partnership. Personalization is the hinge between radio and podcasting.
Podcasting goes back to 2003, with its technology underpinnings stretching back even further. But for iTunes, which added shows in 2005, and therefore for most of the podcasting listenership, the category is 10 years old this summer.
It seems simple in podcasting. The host reads and riffs on a sponsorship message, both elucidating major product points and offering personalization that could extend to a personal endorsement. Sounds a lot like what terrestrial radio has been doing for decades. It gets more complicated with public radio, though.