The Download on Podcasts is a weekly feature sponsored by PodcastOne.
---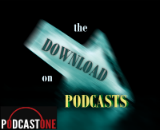 The announcement from Google that it would add podcasts to its Play Music interactive music service shines a light into the gloomy and under-competitive realm of podcast discovery in Android devices. But it's a relatively dim ray of light compared to the bold discovery paths that Apple provides to its audio users.
Most podcast listening is mobile. Most podcast discovery, downloading, and streaming occurs via the podcast category in iTunes, which is carved out in the Podcasts app which appears on all iOS mobile desktops. Apple's gigantic first-mover advantage with podcasts has widened its lead in the mobile era.
This column has complained before of Android's gaping lack in this department. Android is, by far, the global leading mobile operating system, and offers no built-in acknowledgment or discovery of podcasts. Existing third-part apps like Pocket Casts and Podcast Addict provide solutions, but users must seek them out, download and install them — in other words, they are already podcast fans with some fluency in how discovery and acquisition work.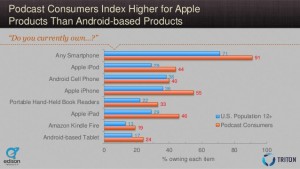 While the podcast category has grown dramatically, with 33% of the 12+ U.S. population having listened to a podcast at least once, and 10% listening weekly, according to Edison Research, consumption is dramatically skewed to Apple products.
Back to Google's announcement, posted by Elias Roman, who headed Songza when it was acquired by Google, and now is Product Manager of Google Play Music. Adding podcasts to Google's music subscription product is a smart move, roughly in parallel with Deezer's acquisition of Stitcher, Spotify's intent to add podcasts, and Rivet Radio's recently announced build-out of podcast shows. Elias Roman's unique selling point is that Google Play Music will leverage (Songza's) content discovery algorithms to recommend podcasts based on user habits.
This is all good for Google Play Music subscribers, but is not the solution that the immense population of Android users needs. The competitive thrust is aimed at other music services, not at Apple. It is the Android operating system which needs a podcast solution, not a Google app within the operating system.
So, while we're eager to see how Google Play Music's podcast library develops (and happily, loading in a podcast is much easier for podcast owners compared to Apple's daunting set of requirements), we're doubling down on our memo to Google: Make a podcast portal, and bolt it into Android. Help bring podcasts into the mainstream.