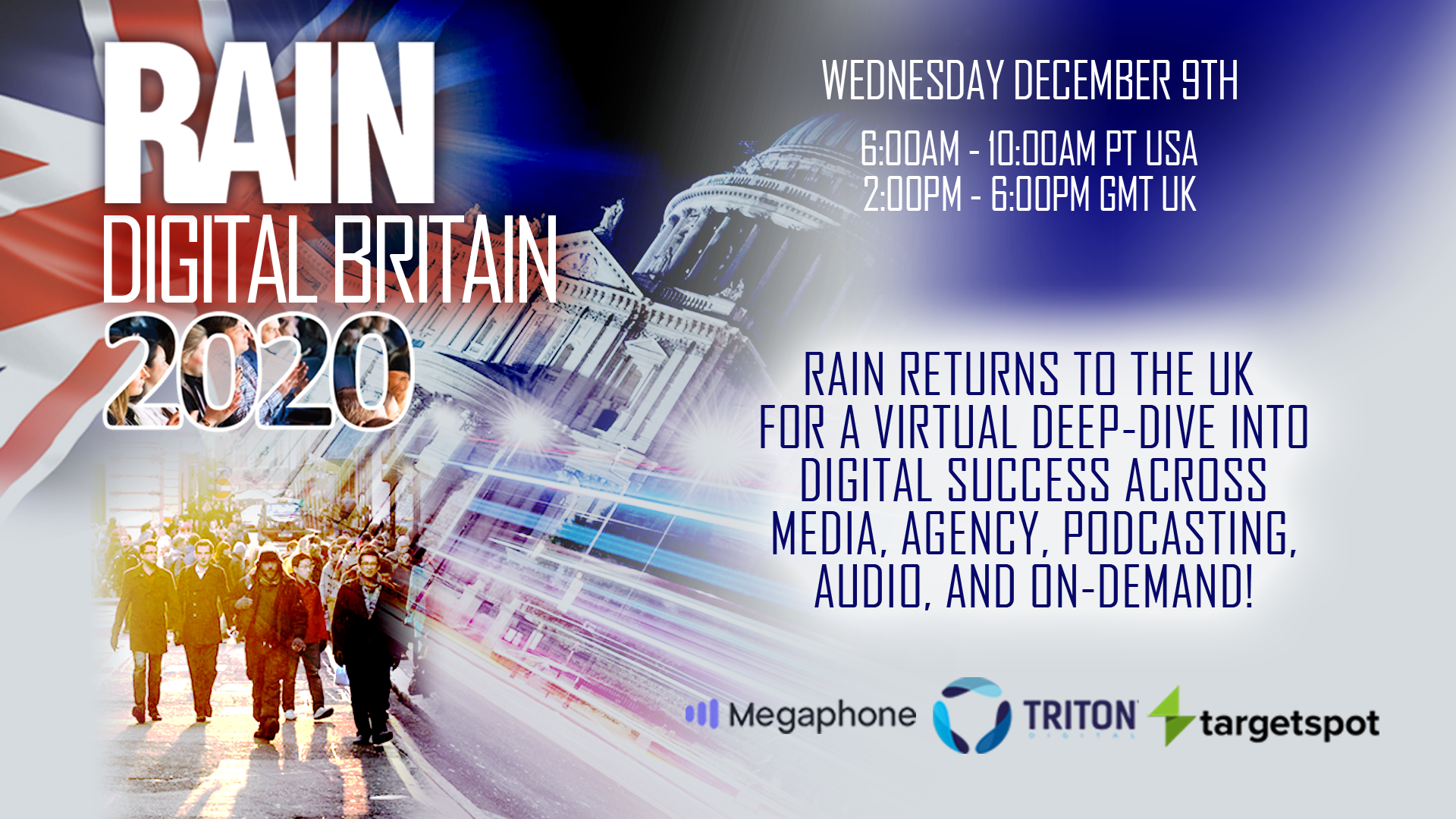 RAIN DIGITAL BRITAIN 2020
The final virtual summit in the RAIN 2020 schedule centres on the United Kingdom Wednesday December 9th from 2:00PM BST to 6:00PM BST (6:00am PT – 10:00am PT USA) with a schedule embracing the leading initiatives across all in DIGITAL AUDIO, PODCASTING, BROADCAST, ON-DEMAND, and the AGENCY, PUBLISHING and DISTRIBUTION sectors, as we emerge from this pandemic period…
---
 FEATURE SESSIONS INCLUDING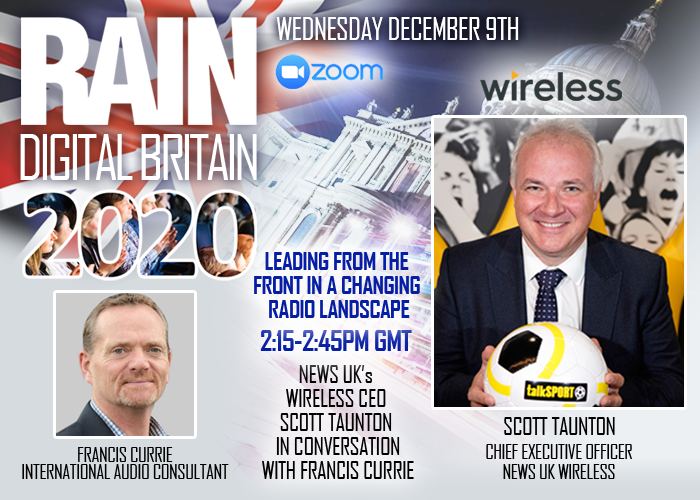 In the last 18 months NEWS UK's WIRELESS has pivoted to non-traditional delivery; talent and engagement initiatives. Combined with a national network view on what is ahead for broadcast, in revenue, business and opportunity… This RAIN feature conversation "leads from the front in a changing radio landscape" as FRANCIS CURRIE speaks with WIRELESS CEO, SCOTT TAUNTON.
---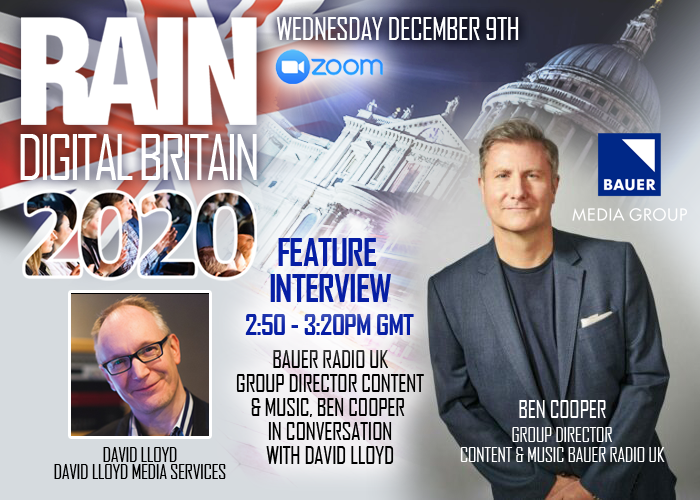 The radio networks view broadens with BEN COOPER, BAUER Radio's new Group Director Content & Music, as he joins DAVID LLOYD in conversation. The former lead at BBC RADIO 1 now controlling a comprehensive gather of music brands and broadcast talent nationally across the UK talks engagement, initiatives; and what lies ahead for broadcast, in a rapidly changing, increasingly competitive and diverse landscape as we step into 2021.

---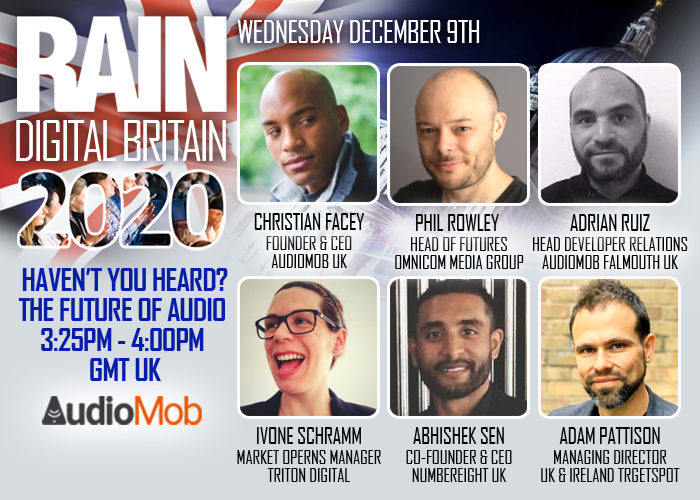 Haven't you Heard? The Future of Audio…
A panel driven by opinions and data showing the current possibilities of audio advertising and where it will go. You will learn: AudioMob research in a Warner Case Study , Behavioural studies, YouGov research, alongside a panel conversation emnbracing Gamer developer adoption of audio ads and predictions of audio advertising in the future across games, apps, programmatic OOH and more!…
---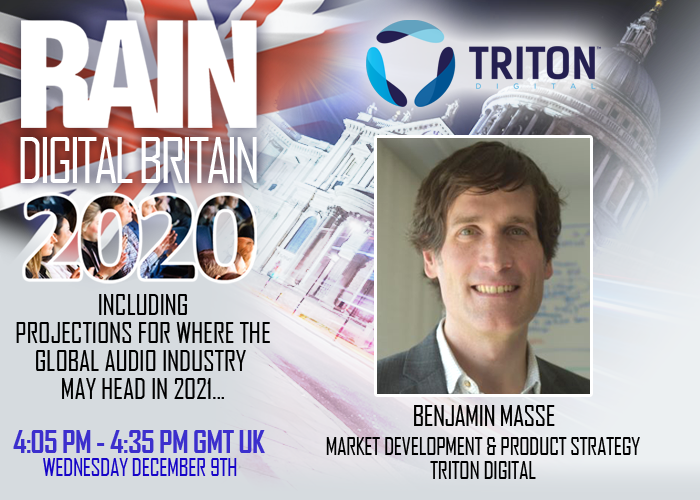 Benjamin Masse (Managing Director, Market Development & Strategy at Triton Digital) will reflect on digital audio consumption and marketplace trends in 2020, including the impact of COVID-19 on the global audio industry. Additionally, Benjamin will provide a number of projections for where the global audio industry may evolve to in 2021, as well as suggested approaches for growth and innovation following what has been a year of unprecedented challenges and disruption.
---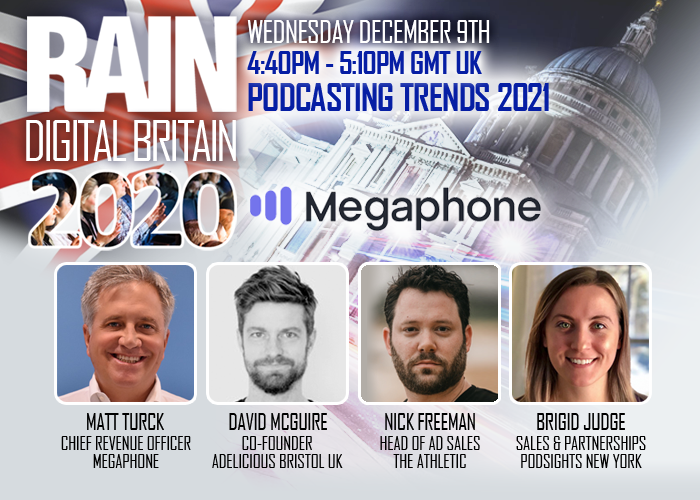 Creating an environment that marries the publishing, monetization, and content matrix for Podcast, has become an accelerated challenge in these pandemic times. MEGAPHONE, with its lead-level transcontinental engagement, across technology and brand /agency demands, has effectively met the challenge and need, in a very different environment we're now all confronting. In the company of Megaphone's CRO, Matt Turck; the UK's David McGuire, Co-Founder at AdeLicious, targeting brands to targeted audience inside podcast; The Athletic's Nick Freemen, making the connect for subscription-based sports online, providing ad-free national and local coverage in 47 North American cities and the UK; and New York's Brigid Judge, leading partnerships at Podsights USA; the stage is set for conversation and viewpoints that will shape the Podcast view and opportunity into 2021… 
---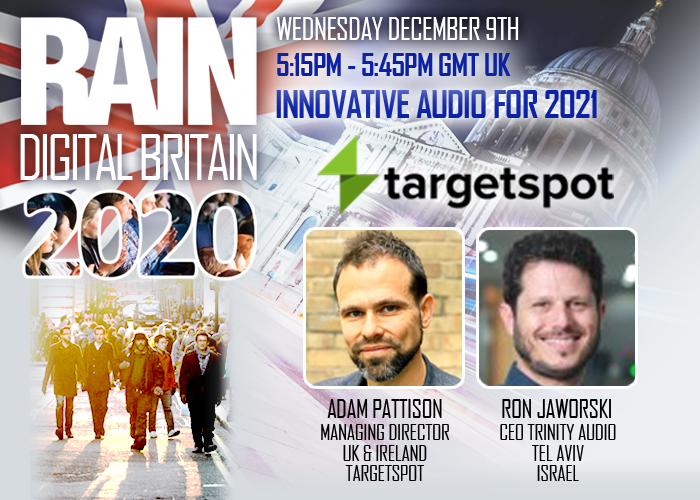 An insightful Q&A session with TARGETSPOT and TRINITY AUDIO! "Innovative Audio for 2021 – opportunities through pioneering technology & content creation". Targetspot showcases some of the new and innovative opportunities for the digital audio industry into 2021, and highlights the increased role played by both hardware and software technology companies, in bringing new content and ways of reaching UK consumers with the power of sound. Includes the increasing importance of contextual environment (both content and physical environment). RON JAWORSKI, CEO Trinity Audio, speaks to what they see as important in 2021, and why the new and contextual environments remain crucial. It's all about the hows and whys of text to audio! 
---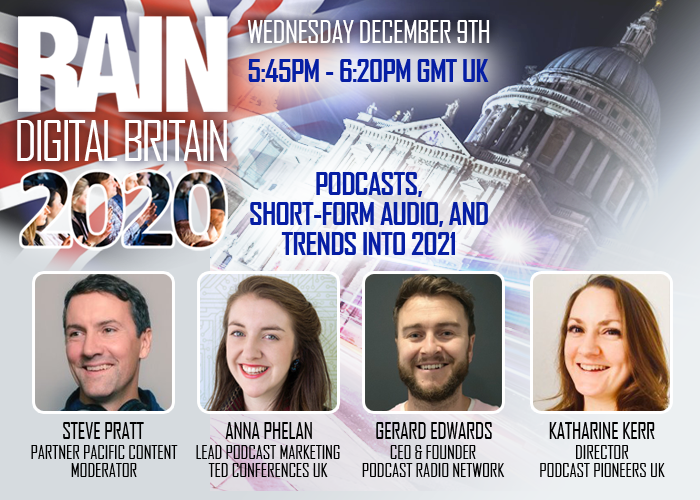 RAIN takes a predictive look into what's rapidly evolving and setting trends in PODCAST as we step into 2021… PACIFIC CONTENT Canada's Steve Pratt, joins a trans-Atlantic conversation tapping The PODCAST RADIO NETWORK UK's Gerard Edwards, TED Conferences Anna Phelan, and PODCAST PIONEER UK's Katharine Kerr, for an expansive overview of "PODCASTS, SHORT-FORM AUDIO, & TRENDS INTO 2021″… as we witness the accelerators that are changing the face of digital audio in a year like no other, across so many areas of engagement!
A MAJOR DAY OF INSIGHTFUL SESSIONS AND CONVERSATIONS SPANNING ALL THAT IS EVOLVING AND EMERGING IN THE DIGITAL AUDIO SPACE!
---
Banner Photographs:
Matt Pet | Joel Delvera