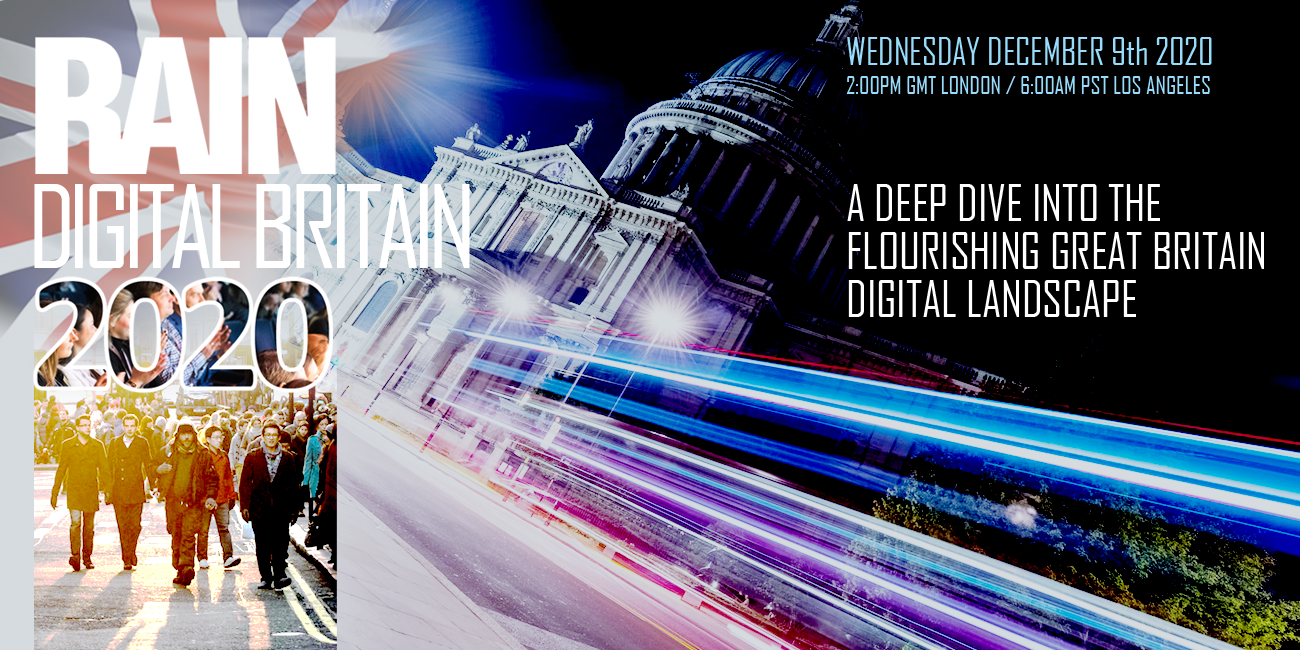 RAIN DIGITAL BRITAIN 2020
The final virtual summit in the RAIN 2020 schedule centres on the United Kingdom Wednesday December 9th from 2:00PM BST to 6:00PM BST (6:00am PT – 10:00am PT USA) with a schedule embracing the leading initiatives across all in DIGITAL AUDIO, PODCASTING, BROADCAST, ON-DEMAND, and the AGENCY, PUBLISHING and DISTRIBUTION sectors, as we emerge from this pandemic period…
---
 FEATURE SESSIONS INCLUDING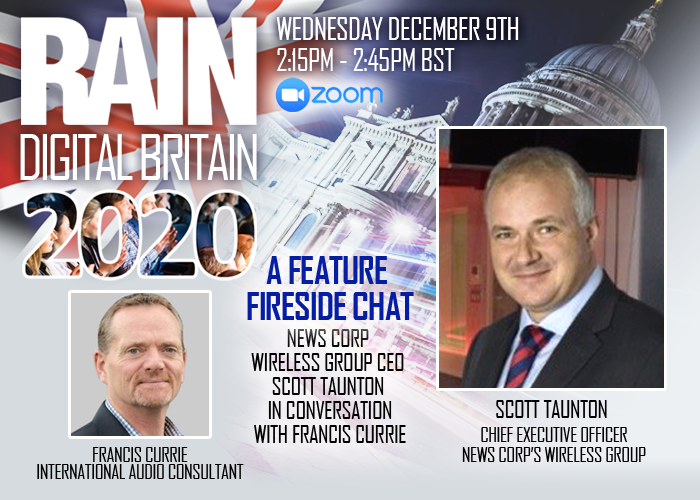 In the last 18 months THE WIRELESS GROUP has pivoted to non-traditional delivery; talent and engagement initiatives. Combined with a national network view on what is ahead for broadcast, in revenue, business and opportunity… This RAIN feature conversation "leads from the front in a changing radio landscape" as FRANCIS CURRIE speaks with WIRELESS CEO, SCOTT TAUNTON.
---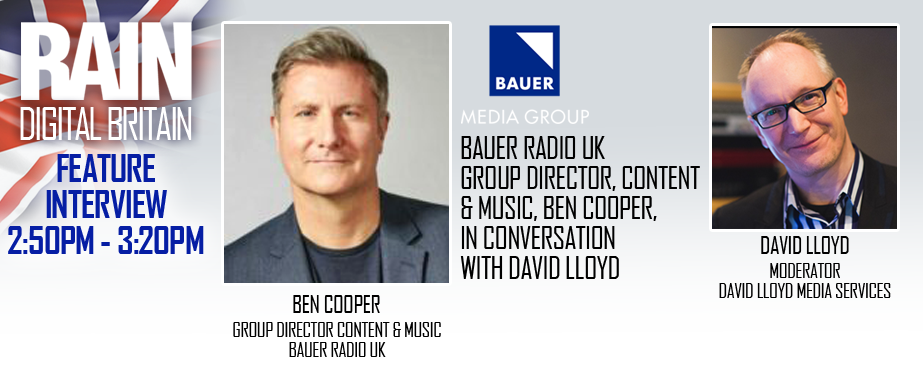 The radio networks view broadens with BEN COOPER, BAUER Radio's new Group Director Content & Music, as he joins DAVID LLOYD in conversation. The former lead at BBC RADIO 1 now controlling a comprehensive gather of music brands and broadcast talent nationally across the UK talks engagement, initiatives; and what lies ahead for broadcast, in a rapidly changing, increasingly competitive and diverse landscape as we step into 2021.

---
SESSIONS COMING UP INCLUDE…
MEGAPHONE, PODSIGHTS and PUBLICIS expanding on the monetization and integration opportunities in tne non-linear engagement space; TARGETSPOT UK & IRELAND focus on the PODCAST PUBLISHING ooprtunity; TRITON DIGITAL Europe exploring real-time data metrics; AUDIOMOB, OMNICOM, WARNER MUSIC inside Case Studies, Behavioural and YouGov research, and adoption trends and predictions for audio advertising in the future… AND MORE!

Banner Photographs:
Matt Pet | Joel Delvera