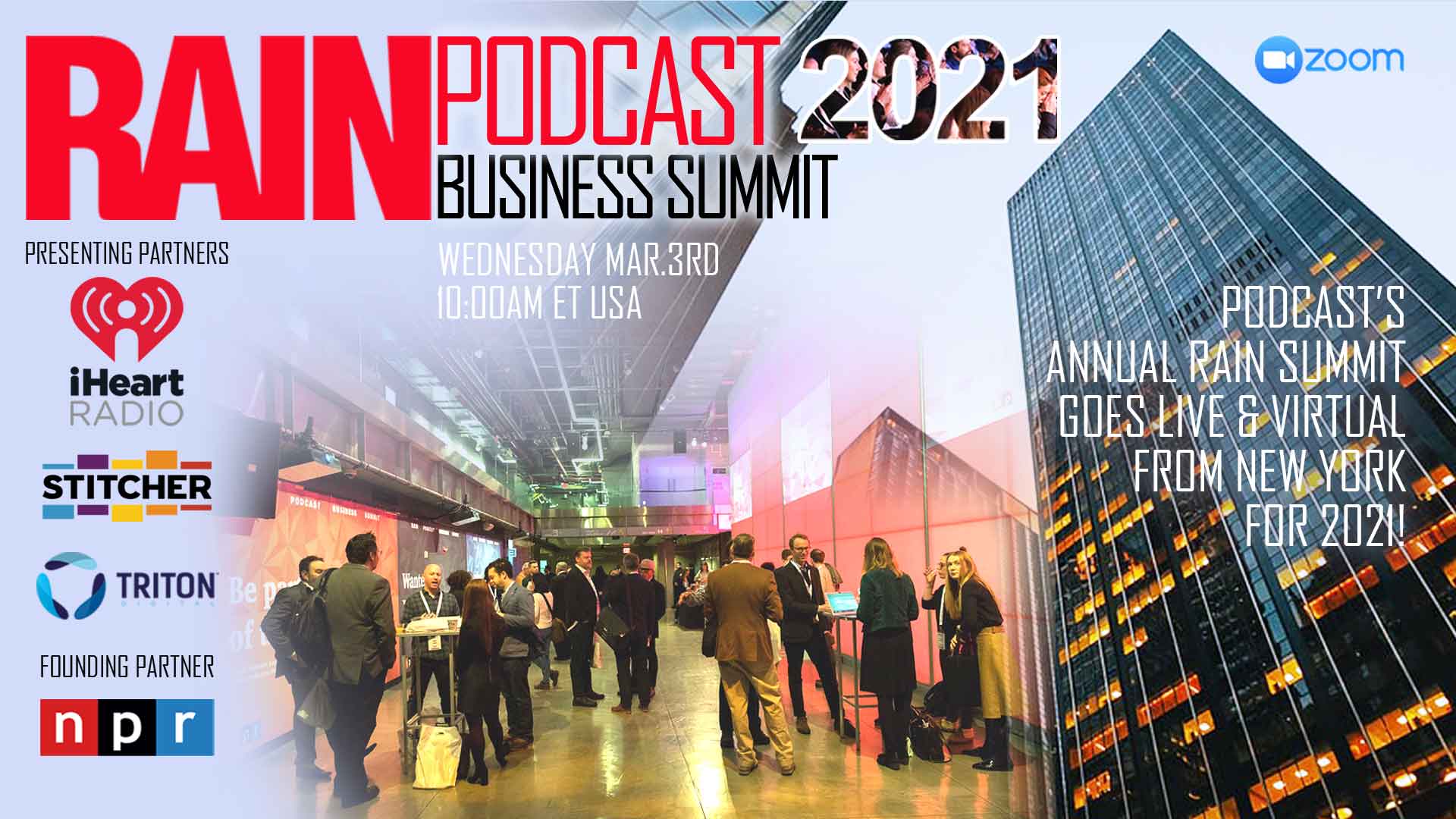 CLICK ON BANNER TO REGISTER!

RAIN PODCAST BUSINESS SUMMIT 2021 PRESENTING PARTNERS
iHeartRadio | Stitcher | Triton Digital
FOUNDING PARTNER
NPR National Public Radio
This major annual RAIN PODCAST BUSINESS SUMMIT goes virtual as a first quarter 2021 schedule opener, WEDNESDAY March 3rd, ET New York USA, from 10:00am to 1:30pm with a schedule embracing the evolution in leading initiatives and thought-leadership space as we step into this new year.
RAIN embraces all in PODCASTING and BUSINESS across MEDIA GROUPS, AGENCY, BRANDS, PUBLISHERS, INDEPENDENT CREATORS, and DISTRIBUTION sectors… join us as we examine the opportunities, challenges, and pivots now shaping this vibrant digital audio and business development sector that is emerging as a platform leader from this pandemic period…
---
 PODCAST SESSIONS INCLUDING…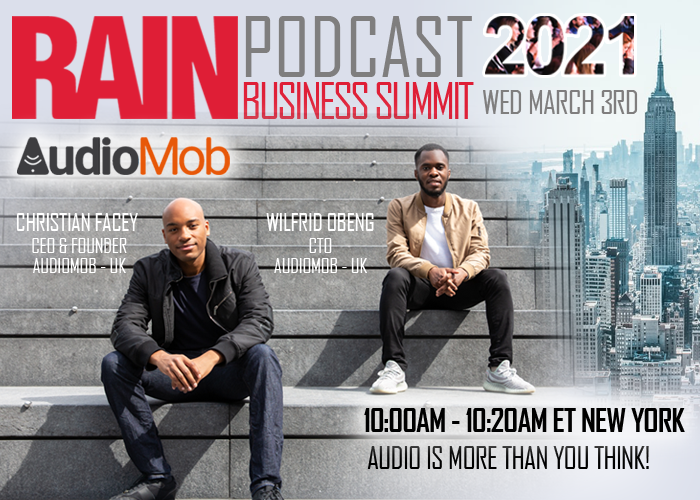 A presentation showing alternative ways you can reach listeners within the mobile gaming space, offering more access to listeners and audio on inventory then any other entity on the planet.
---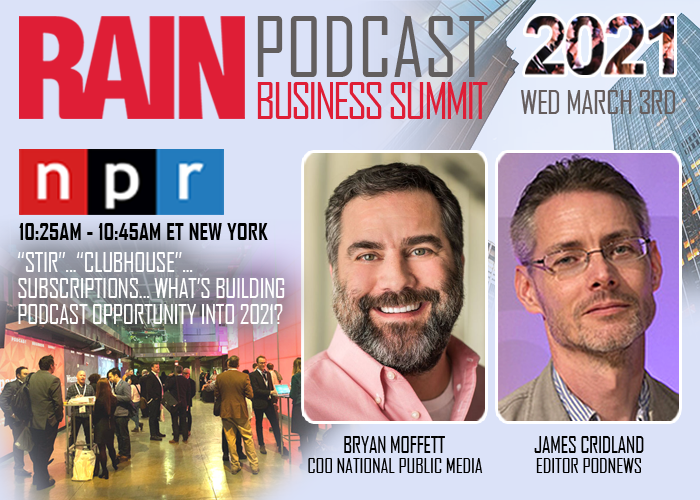 LISTEN:
A conversation about the latest happenings within the podcast landscape including Stir (content creator tool) and Clubhouse to increase subscription opportunities. RAIN opens up a big summit day with a forward view conversation on what lies ahead featuring
Bryan Moffett, COO, National Public Media, and from Brisbane, Australia, James Cridland, Editor, Podnews
---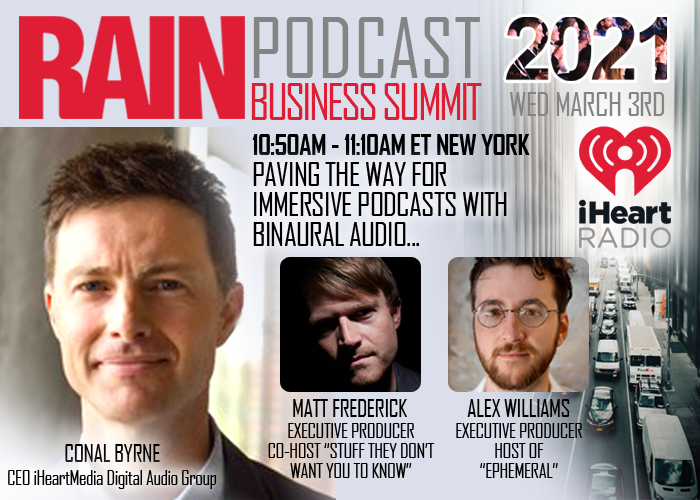 LISTEN:
Join CONAL BYRNE CEO iHeartMedia Digital Audio Group, and key Podcast Executive Producers, MATT FREDERICK and ALEX WILLIAMS, as they reveal iHeart 3D Audio utilizing an innovative method of producing podcasts that places listeners into the middle of an audio soundscape, immersing them in the story like never before. Tapping into the potential of innovative 3D audio, this session will discuss experiential media and explore what's possible with this cutting-edge binaural audio technology.
---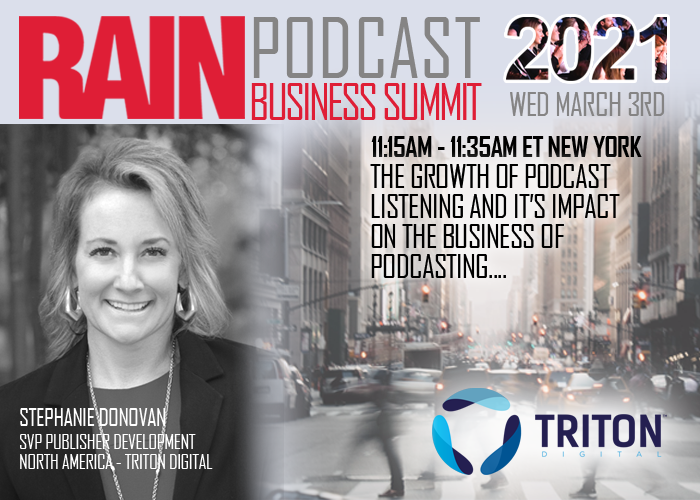 LISTEN:
In this thought-provoking session, Stephanie Donovan will present insightful data and growth trends generated from podcast consumption and advertising in the US, and the impact of this growth on the current and future evolution of the business of podcasting.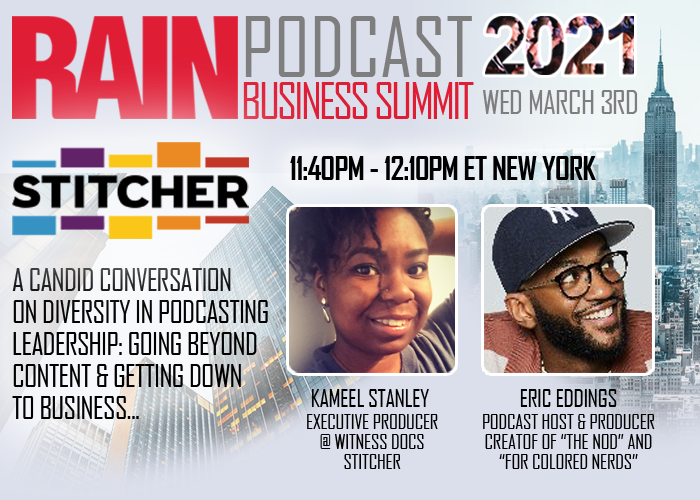 LISTEN:
Since the dawn of podcasting, creators and producers of color have been stepping up to the mic to share their stories, experiences and insights. As a result, podcast content and listenership has rapidly diversified. According to Nielsen, African American podcast listenership has expanded by 5x since 2010, from 880k to 4.2 MM. And, in fact, the podcast audience is now more diverse than the US population, with 41% identifying as non-white. Unfortunately, leadership in the industry lags behind. In this session, Kameel Stanley, Executive Producer of Witness Docs, and Eric Eddings, podcast host/creator of "The Nod" and "For Colored Nerds, will discuss the dire need for representation across the podcast business model.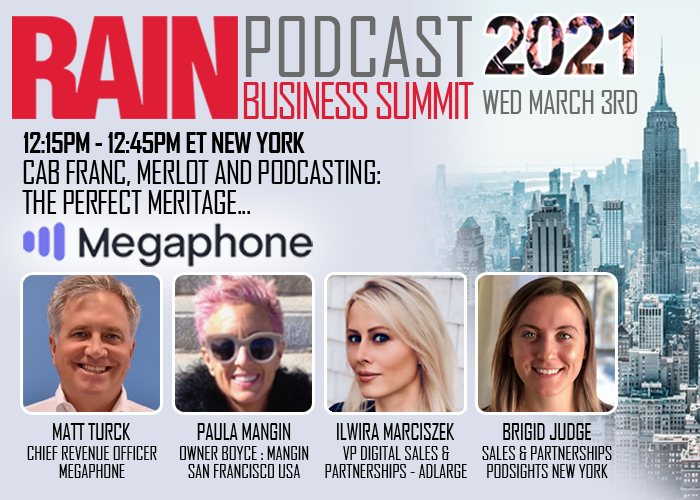 LISTEN:
Like fine Meritage wine, this MEGAPHONE panel session will blend technology, content and monetization as we think podcasting 2021..Join us for a good tasting of smart, fun and involved podcasters!
---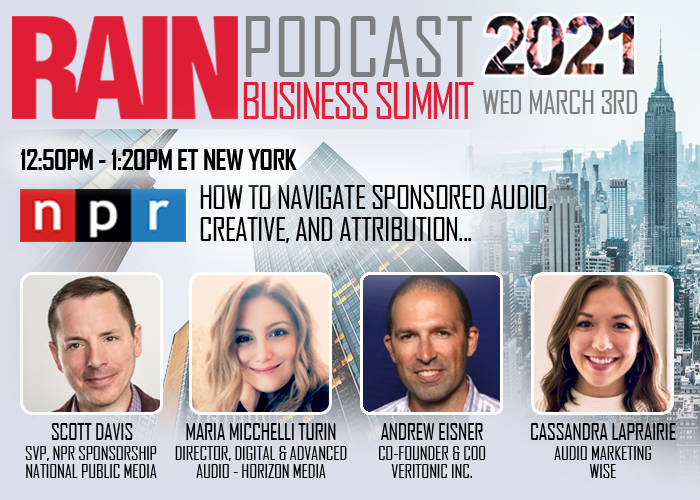 LISTEN:
Despite an unprecedented 2020, digital audio has continued to experience exponential growth with monthly podcast listening up 16% YOY and podcast ad spending projected to hit $1B in 2021. Scott Davis (NPR Sponsorship) sits down with representatives from the agency, brand and ad tech perspectives to discuss what best practices you should know about audio marketing in 2021. Topics include: how brands are leveraging audio to elevate their media mix, the evolving landscape of podcast measurement tools and what the future holds for audio targeting in a cookie-less world.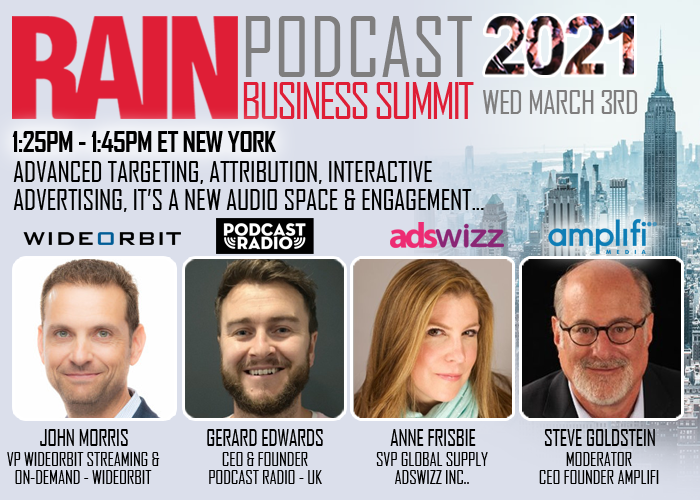 LISTEN:
Steve Goldstein, CEO & Founder Amplifi Media USA moderates this over-arching Audio and Content focused session that spans engagement pivots from leading digital audio companies WIDEORBIT, PODCAST RADIO UK, and ADSWIZZ, all embracing new opportunities for 2021, from advanced targeting, attribution, and advertiser engagement, to linear and non-linear Audio populating today's most exciting content ideas.
---
SUMMIT SPONSORSHIPS AVAILABLE NOW!
contact: Lee Cornell
lee@rainnews.com
---
A MAJOR DAY OF INSIGHTFUL PANEL SESSIONS, PRESENTATIONS, AND CONVERSATIONS SPANNING ALL THAT IS EVOLVING AND EMERGING IN THE PODCAST DIGITAL AND BUSINESS AUDIO SPACE!
---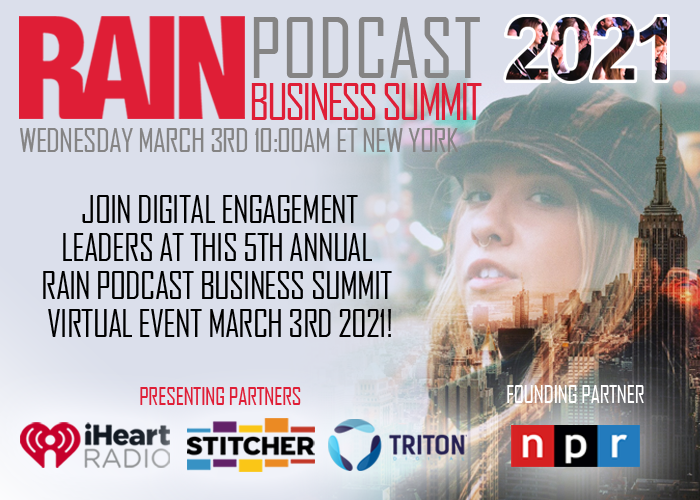 Banner Photographs:
Jenna Bascom | Jorge Ramirez