RAIN 2021: Global Audio Evolution
SUPPORTED BY MAJOR
PRESENTING PARTNERS
ALLMEDIADESK | STITCHER | TARGETSPOT
FREE REGISTRATION!… CLICK BANNER BELOW!

This major annual RAIN 2021: GLOBAL AUDIO EVOLUTION Summit returns as the global schedule opener, THURSDAY May 20th EDT New York USA, from 10:00am with a schedule spanning pivots in engagement that are impacting the way MEDIA engages in an expanded and new thought-leadership space shaping for 2021.
---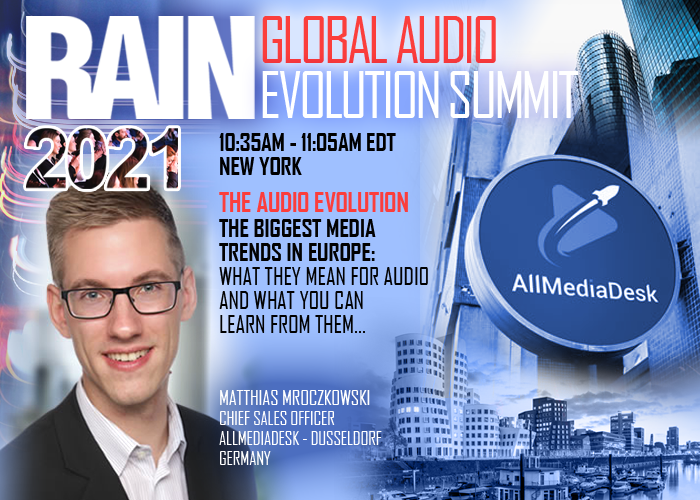 Matthias Mroczkowski, Chief Sales  Officer, ALLMEDIA DESK, Germany, zeroes in on the key challenging areas of TARGETING with Google stopping the support of third party cookies, through to GDRP General Data Protection Regulation… the core of Europe's digital privacy legislation. CONVERGENCE as sales houses sell Online Audio and broadcast Radio; and the Growing demand of customer portals and DSP's as advertisers and agencies show growing interest in easily purchasing media inventory over software interfaces.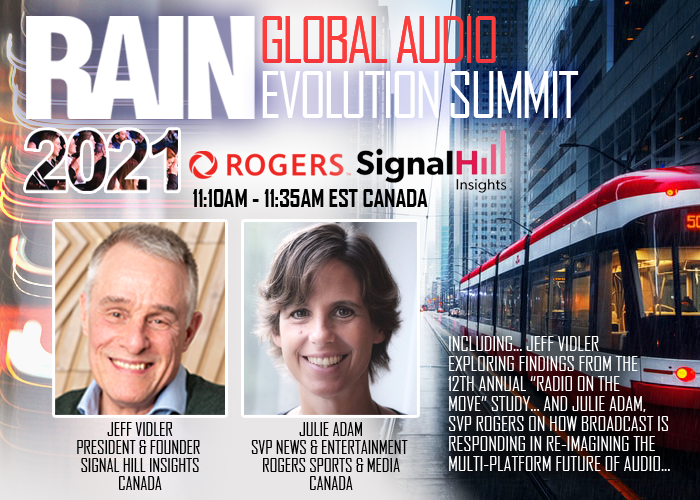 Increased use of smartphones and rising penetration of smart speakers have more Canadians using more audio, including more streaming of broadcast radio. Jeff Vidler of Signal Hill Insights will take us through these and other key findings from their 12th Annual Radio on the Move study. Julie Adam, SVP of News and Entertainment for Rogers Sports & Media, will join Jeff to talk about how one of Canada's biggest broadcasters is responding to this change by re-imagining the multi-platform future of audio.

---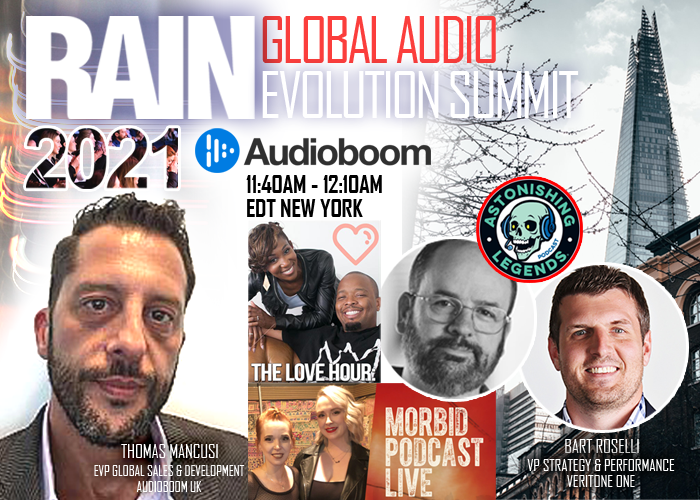 AUDIOBOOM joins the GLOBAL AUDIO EVOLUTION conversation from the UK with a focus on the stunning growth of PODCASTING with feature input frrom  Morbid: A True Crime Podcast – with Ash Kelley and Alaina Urquhart; Astonishing Legends: Scott Philbrook; The Love Hour's: Melissa Fredericks (Mrs KevOnStage) and key executives Bart Roselli, VP Strategy & Performance, VERITONE ONE; and Thomas Mancusi, EVP Global Sales & Development, AUDIOBOOM UK.

---
---
SUMMIT SPONSORSHIPS AVAILABLE!
contact: Lee Cornell, VP & Head of Summits
lee@rainnews.com
---
A MAJOR GLOBAL DAY OF PANEL SESSIONS, PRESENTATIONS, AND CONVERSATIONS SPANNING ALL THAT IS EVOLVING AND EMERGING IN A CHANGED DIGITAL AND BUSINESS MEDIA SPACE!
---
Banner Photographs:
Mandi Changari | Dan Asaki