The Download on Podcasts is a weekly feature sponsored by PodcastOne. This week, PodcastOne's own dramatic investment in sales and marketing resources is the subject.
---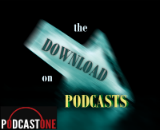 The resurgence of podcasting is mostly publicized as an entertainment audio genre with public-facing shows in the "B2C" category — Business To Consumer. Podcasting got its start a decade ago as a consumer product and a natural extension of blogs. The public radio show Serial widely credited with sparking greater consumer awareness of podcasts, was an entertaining exercise in investigative storytelling.
Increasingly, attention is shining on "B2B" podcasting (Business to Business), just as blogging evolved from homespun entertainment publishing, eventually becoming not only corporate in scale, but mandatory for any business that wanted a closer and more relationship with its customers, plus a potential supplementary revenue stream.
The revenue part is important and complicated, because while established podcast networks and high-profile shows are selling sky-high CPM sponsorships (we have been told of $50-80 CPMs), the teeming mass of podcasts don't provide full-time earning for their creators in most cases.
In a recent conversation with RAIN News, Dan Franks, who founded and runs the Podcast Movement conference, estimated that very few podcasts lower-ranked than the top 50 across all categories in iTunes provide a full-time job for their creators. Of course, the iTunes list is not the only barometer of podcast success — networks with their own dedicated sales resources can generate substantial income that isn't necessarily aligned with the download metric which powers iTunes. But the point remains that podcast success (audience size and revenue) is concentrated at the top.
Dan Franks noted the increasingly important role of podcasting for supplementary income that fits into a larger business plan. "One of our conference presenters was Pat Flynn, who makes the Smart Passive Income podcast. He is always in the top-100 list, usually in the bottom half. He has built his personal platform largely based on the podcast, but he is not making his living on the podcast sponsorships. The podcast is supplementary to products and services that he offers."
Other example can be spotted in the lower regions of the iTunes Featured Podcasts list, as visible in the native Podcasts app for iPhones. Televangelist Joel Osteen produces an audio program. Wayne W. Dyer, an author and motivational speaker, has added a podcast to his product lineup. In cases like these, there is a mirror effect — the podcast benefits from existing brand value and whatever celebrity clout the host brings to it, while driving awareness of the larger business.
Entrepreneur Magazine has picked up on this trend with an article that counts five ways that podcasting is a marketing tool in an enterprise. Those five values (trust, search ranking, connections, supplemental income, content) harken back to the same inflection point for blogging many years ago. As with blogs, podcasts will soon become a necessary check box for any enterprise trying to promote its brand in many channels.