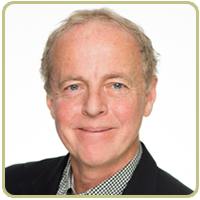 Stephen Colbert debuted as the new host of "The Late Show" on CBS last night, following 22 years of the great David Letterman — and you can watch the premiere episode for free (albeit with a pretty high spot load) on CBS.com.
It was a jam-packed show, but one of the highlights for me was seeing the return of live-copy testimonial advertising from the show's host.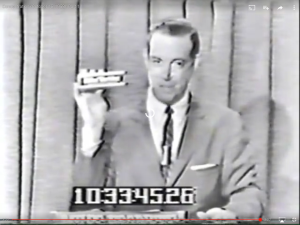 I seem to recall that Steve Allen and/or Jack Parr, when they hosted "The Tonight Show" (a/k/a "Tonight!") during my childhood, would hold a product up to the camera and endorse it occasionally, although I believe during Johnny Carson's reign that he handed that responsibility over to sidekick Ed McMahon (who famously did Alpo dog food commercials live for years).
And I certainly remember game show hosts — like Hugh Downs, pictured, on "Concentration" holding up a package of Miles Nervine, or Art James on "Say When!!" demonstrating a jar of Peter Pan peanut butter — would fulfill the assignment.
Colbert started his first live-copy testimonial by showing memorabilia in the studio, including a cursed amulet: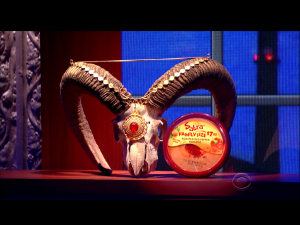 "Sometimes the cursed amulet drones like that when it's not pleased with me […] I must be forever enslaved to its hideous drone and make certain regrettable compromises. But not tonight! Tonight's happy!
"Anyway, my first guest began his career… [Evil droning gets louder.]
"For crying out loud! How can I be of service, O Infernal Master? [Camera cuts to amulet, now with a package of Sabra hummus next to it.] No! Not the first night! It's too soon! [Reacts to the realization that he now somehow has a package of Sabra in his hand.] No!! How did this get here?!?
"Ladies and gentlemen, the amulet commands me to inform you of the delicious taste of tonight's sponsor, Sabra Roasted Red Pepper Hummus. [He looks down in shame.] Made from from simple, fresh ingredients that bring people together one bite at a time. There — I've done your bidding! Now leave me be or I will cast you back into the desert sands where I found you! [Camera cuts to the amulet, now featuring family packs of Sabra hummus.] I shall not! [Grabs his hand in pain, and shows burned flesh.] AAAGH! It burns! Fine: Try Sabra Grab N'Go Snack packs of classic hummus with Rold Gold pretzels. [Sobs.] Scoop up the fun."
[Colbert slowly recovers from the pain.] "It slumbers. [He takes a bite.] It's actually pretty good."
Here is the video of the native promotional placement, starting at 2:20:
As we've written previously in RAIN and discussed at RAIN Summits, live-copy testimonial advertising has been at the heart of the financial success of podcasts to date, generally selling for CPMs of up to $25 to $50 at a time when produced :30-second commercials on music-based streams sell in the network radio market for as little as $3 to $6.
It seems to me that music-based webcasters might be inspired by initiatives like Colbert's and try to add this ad unit to their ratecards. However, I believe it will require already having a personality of some type between the records to pull it off. (At AccuRadio, we hope to try experimenting later this year with our "station voice," EVP/Programming (and former RAIN editor) Paul Maloney, since we have the benefit of actually having a "station voice" doing sweepers.)
Podcasters, it should be noted, are having trouble getting advertisers other than direct response advertisers to buy this type of advertising.
But I think this Sabra spot proves that the technique works great for consumer package goods advertisers as well — I can't imagine that this commercial, even if it was forced on poor Colbert by an evil snake-headed Assyrian fire god, wasn't at least five or ten times more effective than a traditional produced :30 spot.