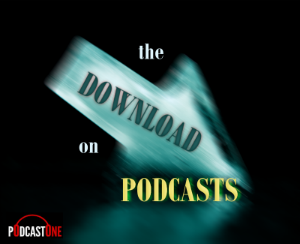 The Download on Podcasts is a weekly feature sponsored by PodcastOne.
---
It seems simple in podcasting. The host reads and riffs on a sponsorship message, both elucidating major product points and offering personalization that could extend to a personal endorsement. Sounds a lot like what terrestrial radio has been doing for decades.
It gets more complex in podcasts produced by public radio, though. There, program brands which extend over the analog-digital line, appearing both in broadcast and on-demand, can suffer an identity crisis when it comes to sponsorship messaging. And listeners can be uncomfortable, too.
One of the country's most important public-radio and podcast creators, Ira Glass (This American Life; Serial), made remarks about public radio embracing capitalism in new ways. His opinions created a social media firestorm hot enough to motivate Glass to write and explanatory column in Current.
In any discussion of public radio sponsorship and podcasting native ads, there is a point of confusion: The word Radio. Ira Glass perfectly straddles the divide, and therefore might be the perfect focal point of the conversation; This American Life is a terrestrial show also distributed as a podcast, and Serial is an Internet-only program promoted over the air. In talk programming as in music, "radio" means new things.
As an extension of that, public radio sponsorship can mean new things. U.S. government regulations of public radio sponsorship over the air do not apply to digital extensions, so full-bore advertisements can be found on some programs, such as Wait, Wait, Don't Tell Me, a perennial top-10 podcast hit produced by WBEZ in Chicago.
Ira Glass' point is that with the quick growth of audience and awareness in podcasting, advertising money can flow in to supplement traditional public-radio sponsorship, presented in unrestricted ways such as host-spoken native — and that creators and audiences should embrace that. "Public radio is popular now. A stunning example that would've been unthinkable just two years ago: NPR's newest show Invisibilia burst out of the gate in January with over five million people downloading each episode. Numbers like that mean that companies will come on our shows and pay lots of money for what the rest of the world calls 'advertising' and what we call 'underwriting'."
"Public radio should embrace capitalism," he said. Glass thinks that more advertising money can further traditional public radio ideals of investigative reporting and stories that can't be found elsewhere — certainly tenets of his programs.
It's interesting to read the comments below the Glass article in Current. Some listeners push back strongly against native advertising, characterizing it as a "race to the bottom," dragging down the reputation and tone of public radio brands.
For a discussion with wider reach, try listening to this panel discussion featuring execs from WBEZ, PRX, and Midroll Media (which today was acquired by Scripps).