The Download on Podcasts is a weekly feature sponsored by PodcastOne.
---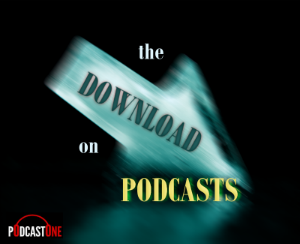 Well then. It has been quite a month for podcasting. In the space of two weeks, Midroll Media was wholly acquired by the venerable media company E.W. Scripps, and PodcastOne (sponsor of this weekly column) was partially acquired by Hubbard Radio, which bought into a 30% equity stake and collaborative partnership.
We have been saying for at least a year that the growing awareness and audience for podcasting represents a unique opportunity for radio, one which plays into the legacy spoken-word strength of broadcasting. While the reach of American traditional radio remains dazzling (93% according to the latest Nielsen measurement), the medium is under assault from music services generally, Internet radio especially, and market-leader Pandora particularly. Digitally connected cars represent an incoming meteor whose shock wave will start being felt as the 12-year-old American fleet slowly modernizes.
Music is a difficult category for radio to compete with online services, because of the tremendous personalization they offer. Of all the key attributes represented by both non-interactive platforms like Pandora, and interactive membership services like Spotify Premium, Rhapsody, and Apple Music, personalization is the primary value.
In fact, personalization is the key value of digital life generally. Over the last 20 years the Internet has given consumers astounding range and control of media — from news to movies to television to music. While the Internet is software, accompanying consumer electronics have contributed immensely to people's entitlement and control — from computers to DVRs to ebook readers to smartphones.
Selection and timing are the twin attributes of personalization — in other words, getting what we want, when (and where) we want it. It's interesting that podcasting is often called on-demand audio. (SoundCloud calls its spoken-word content "audio.") Music is no less on-demand in the interactive services. But radio's personalization (region and music genre, often lacking user registration) is too blunt for the digital lifestyle. On-demand audio (i.e. streaming and downloading spoken-word content) presents radio's on-ramp to a competitive stance in the streaming and downloading realms.
That is clearly the opportunity grasped by Scripps and Hubbard. And it's more than just personalized delivery that distinguishes podcasting. the micro-topicality of podcasts is another aspect of personalization. Users can find shows devoted to narrowly niche topics. But as Steve Goldstein noted when he launched Amplifi Media, there are white spaces in the topicality spectrum for podcasting (potentially in collaboration with radio) to build out new programming and audiences. "You don't have to go very deep to see that the content category is skewed," Goldstein told RAIN News. "Where is health and wellness? Where is the Millennial stuff?"
Along the same lines, this column recently observed that although there is a youth audience for podcasting, there is not a corresponding category of young-person's programming.
Podcasting is a hyper-personalized content category that can pivot between personality-driven shows and targeted topics, can deliver to the user with infinite flexibility, and can run side-by-side with streaming music. In fact, Deezer and Spotify have built podcasts into their catalogs — Deezer through its Stitcher acquisition and Spotify through specialized content relationships that have not yet appeared in the service.
In all of this, as podcasting continues a rise to potential parity with music, broadcast companies will probably continue to find ways to get involved quickly.