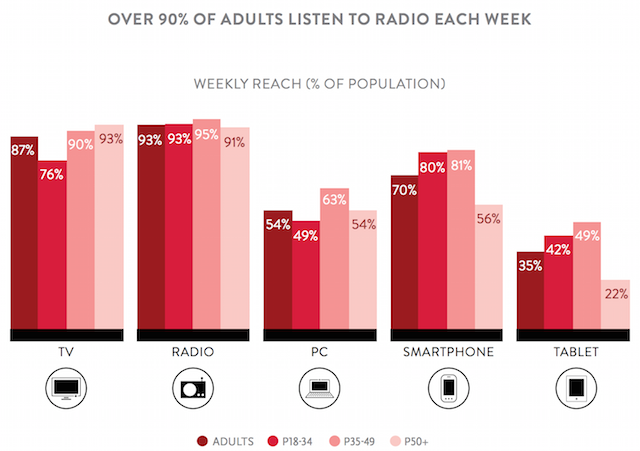 Nielsen has released its Total Audience Report for the first quarter of 2015. The report showed impressive reach for radio, but a dwindling in how much time that large audience tunes in. Meanwhile, digital services and mobile platforms are seeing quick growth in usage.
Terrestrial radio still has the greatest reach, with 93% of the adult population listening each week. For an average week, Nielsen found that radio use happens 5.16 days a week, with 162 minutes of listening per day. The top age group was between 35 and 49, where 95% are weekly listeners, while Hispanics were the largest racial group tuning it to radio. Although radio was a dominant force in terms of reach, the average time spent with the medium per adult has been posting a slow decline over the years. For Q1 2015, average radio time per day was 2 hours and 42 minutes, down from 2 hours and 46 minutes in the same period of 2014 and from 2 hours and 48 minutes in the first quarter of 2013.
The data for audio streaming was broken out by platform. Smartphone streaming had the most reach for an average week, clocking in with 18.2% reach, compared with 8.4% for PCs and 3.5% for tablets. On smartphones, listeners use streaming programs for an average of 2.72 days a week and for 34 minutes a day. PCs averaged 2.18 days of use and 42 minutes of listening, and tablets saw use 2.07 days but for an average of 50 minutes a day. The average audience across all three hardware options was 674,692, compared with radio's more than 18 million. Nielsen's streaming data included audio-centric programs such as Spotify, Pandora, and iHeartRadio, but did not include video-centric sites such as YouTube in the calculations.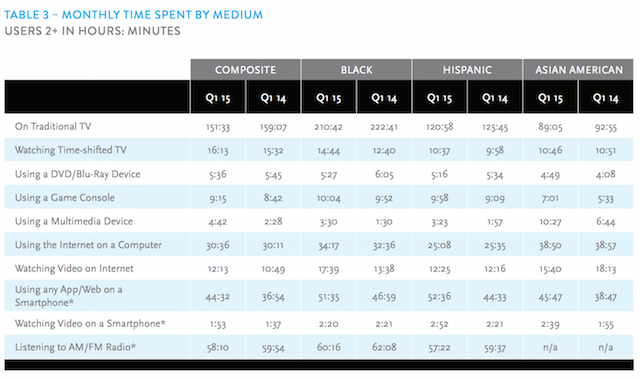 However, while time spent with radio has been slowly declining, most digital and online hardware has seen spikes in use. Monthly time spent listening to AM/FM radio decreased from just under 60 hours in Q1 2014 to 58 hours and 10 minutes in Q1 2015. Time spent on smartphones rocketed from 36 hours and 54 minutes in 2014 to 44 hours and 32 minutes in 2015. Multimedia device use increased from 2 hours and 28 minutes to 4 hours and 42 minutes. And although monthly time spent using the Internet on a computer was close to static, Internet video viewing secured just over 12 hours in the first quarter of 2015, compared with 10 hours and 49 minutes in 2014.
Another data set revealing how radio's audience has changed examined how much different age groups listen. In an average month:
Ages 12-17 listened 34 hours, 51 minutes
Ages 18-24 listened 49 hours, 17 minutes
Ages 25-34 listened 53 hours, 20 minutes
Ages 35-49 listened 62 hours, 12 minutes
Ages 50-64 listened 68 hours, 42 minutes
The low listening times for younger audiences – who instead clock in more time on game consoles, smartphones, computers, and televisions – mean that radio risks losing share in generational cycling.