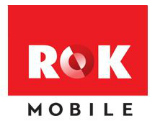 ROK Mobile announced a UK launch of its music streaming bundle. The company offers unlimited calls and texts and 4GB of data on top of a custom streaming platform. The service will cost £24.99 a month, or about $39.
ROK Mobile had its U.S. launch last year, offering a similar bundle for $50 a month. The music service has a library of more than 20 million songs and has the typical streaming feature set.
7digital is powering the music components. "We are delighted to be involved in the UK launch of Rok Mobile as we have worked with Rok in the U.S. for a number of years and believe their service offers a great music experience for mobile users," CEO Simon Cole said of working with ROK.