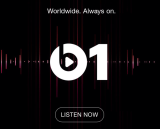 One of the biggest highlights of the new Apple Music streaming platform is certainly the ambitious Beats 1 radio project. But the latest industry rumors hint that Beats 1 may not stand alone forever. According to The Verge, inside sources have revealed that Apple's contracts with labels allow the tech giant to launch up to five additional stations without renegotiating. That means that we could very likely see (and hear) a Beats 2 through Beats 6 joining the broadcast offerings.
The big questions now are not so much if Apple will add those stations, but when and how. The Verge floated the idea of a companion station to Beats 1 headquartered in the eastern hemisphere, so that the combined stations could offer live programming 24/7. Our own Kurt Hanson floated this idea of multiple stations soon after Apple Music's launch, but instead envisioned splitting them up by genre. There are several good options for how Apple could opt to present a full radio suite, each with their own pros and cons for listeners.
The when is still an uncertainty. With a launch date of June 30, Apple Music is still in its three-month free trial phase for most listeners. The company is likely going to wait out at least the end of that first wave and see how many people it retains as paying subscribers before embarking on a major new addition. Beats 1 is also available to non-subscribers; as long as you have an Apple ID, you can tune in. It's possible that the full suite of stations could add extra impetus for people to subscribe if they're as high quality as Beats 1 but are kept for the paying customers.