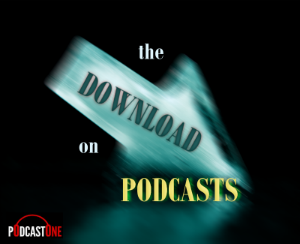 The Download on Podcasts is a weekly feature sponsored by PodcastOne.
---
Last week Edison Research released new information about the podcasting audience, taken from The Infinite Dial 2015, its annual survey of listening habits and trends in America. Among the interesting results was a breakdown of age groups: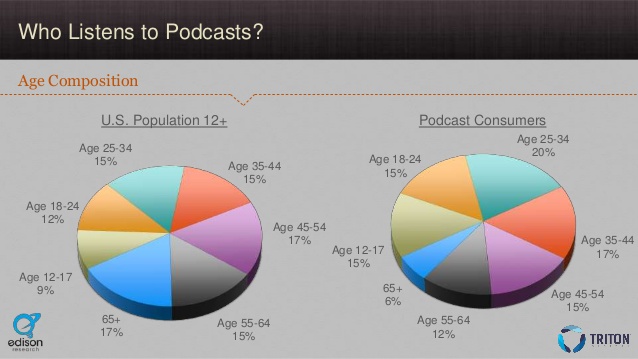 In this comparison of podcast listening to the U.S. population breakdown, there is a change from the listening trend we saw in Nielsen's recent breakdown of age-based AM/FM listening for the first quarter of 2015:
Ages 12-17 listened 34 hours, 51 minutes
Ages 18-24 listened 49 hours, 17 minutes
Ages 25-34 listened 53 hours, 20 minutes
Ages 35-49 listened 62 hours, 12 minutes
Ages 50-64 listened 68 hours, 42 minutes
The AM/FM audience skews sharply older, with the 50-64 group listening twice as much as the 12-17 group. Teens aren't into terrestrial radio, a significant warning signal for the AM/FM industry.
In podcasting, 12-17 teens listen as much as the 18-24 group (not the case with radio), and even as much as the 45-54 group. Good news for marketers! and all the more remarkable because there isn't much podcast content targeted specifically to teens.
Think of YouTube video content, where many of the rising stars are young people producing shows for young people. by contrast, podcasting seems stodgy, the hits list dominated by NPR programming and middle-aged interviewers like Marc Maron. the two biggest podcasting phenomena of the last year have been Serial, a show created by public radio and promoted on FM, and Marc Maron's interview with President Obama.
An article in Teen Vogue featured a podcast recommendation list. Four programs were suggested, and three of them (This American Life, Radiolab, All Songs Considered) were established public radio shows. This American Life "takes on topics you had no idea could be so interesting or human, like patent law, healthcare spending, and immigration policy." That description fits the show, and we are not disrespecting the intellectual curiosity of teens, but the recommendation also betrays a lack of content specifically suited to a youth category.
The on-demand, uncensored, Internet-based, fully mobile aspects of podcasting create a huge opportunity for winning an age group that appears disaffected by the limitations of terrestrial programming. Creators and networks should take advantage of it by developing the young podcast stars who might make next year's hit shows.