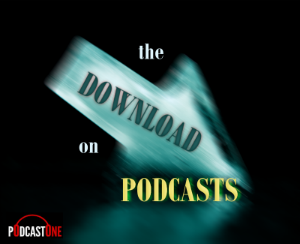 The Download on Podcasts is a weekly feature sponsored by PodcastOne.
---
If Serial was the first mile marker of podcasting's modern era, President Obama's appearance this week on WTF with Marc Maron is the second, and possibly more important signifier.
The chief executive sat for an hour on Monday's episode of WTF, chatting with a clearly nervous and excited Marc Maron. The popular show, produced in Maron's garage, is typically a combination of personal ruminations and guest interviews.
The Obama episode was downloaded nearly a million times in the first 36 hours after posting, according to program host LIBSYN.
Early in the presidential interview, Obama said that he chose WTF as a venue where he could have a more personal conversation, separated from policy issues.
As a platform awareness event, the show was reminiscent of Obama's use of YouTube as a town hall venue early in his presidential career. Although podcasting has existed for about ten years, this is the first time Obama or his predecessor has appeared in one. There is also some resonance with how blogging became legitimized as a viable news platform.
That fact of Obama's appearance on a podcast would be enough to put podcasting into the mainstream news cycle for a day. More provocatively, Obama said something during a conversation about lingering racism in America: "We're not cured of it," the president said. "And it's not just a matter of it not being polite to say 'nigger' in public. That's not the measure of whether racism still exists or not."
Whatever one might think of Obama's judgement in using an inflammatory word, the contribution to podcasting as a new and different sort of venue, where a sitting world leader can speak with exceptional frankness and authenticity, is undeniable. The interview was covered globally in too many outlets to list.
Just as NPR and show creator This American Life benefitted from the success of Serial (which also drove awareness of podcasting generally), the entire category benefits from the bright spotlight Obama shone on Marc Maron's show. The impact is all the greater for WTF with Marc Maron being a pure Internet program, un-owned by a broadcast entity, and never benefitting from broadcast promotion.