The Download on Podcasts is a weekly feature sponsored by PodcastOne.
---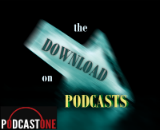 Note the spelling: P-O-D-C-A-T. Podcat is an interesting podcast search engine that finds appearances, and mentions, of people you type in. For example, to pick the most luminous celebrity example, type Barack Obama into Podcat, and you'll find Marc Maron's stupendous one-hour interview with the president. You'll also be shown programs and episodes in which Barack Obama is mentioned.
Conveniently, you can play any show episode that appears in search results, and see a few most-recent episodes in a short feed. A side list of other names frequently mentioned in the program leads to those episodes, all playable. Podcat is not intended to be a full-featured podcatcher that can collect favorites and organize a person's whole podcast-listening life. But it is a valuable discovery environment that shines light on shows shaded by your interest in personalities that might have guested on podcasts.
Addiction
It's addictive, partly because the discovery results are different from the standard sorting by topical category and most-popular shows — methods which, in addition to feeling pretty musty by now, create a success-breeds-success upward spiral that hides a long tail of quality programming.
For example, we dug into Jim Gaffigan's podcast presence, after seeing his name as most-mentioned in WTF with Marc Maron. We were pleased to see him take a guest turn in The Splendid Table, an NPR broadcast show-plus-podcast. That show placement makes sense, as Gaffigan is a famous foodie who wrote a book about his love of eating. Prowling through Podcat allowed us to track Gaffigan's on-demand book tour to a show called Wits, which we hadn't heard, and that led to a pleasing trek into several past episodes.
Likewise, we stalked Howard Dean, whom we recently heard on the Huffington Post political history show Candidate Confessional, where he disarmingly detailed his failed presidential campaign. We found an eye-popping 41 placements for Dean in the podcast realm, including a show called Skepticality from 2012, in which we were tantalized by this description: "From the book of Revelation to global warming catastrophes to the many predictions of the end of civilization, why does culture seem to be obsessed with the idea that the end is near? In this episode of Skepticality, Derek speaks with Mathew Gross: the man responsible for Howard Dean's internet strategy in his bid for the presidency in 2004." We had to listen, if only to learn how the show connected the end of life with the campaign trail.
Turning Podcasts Inside-Out
Searching inside audio programs is a kind of holy grail of podcast discoverability. Pulling the podcast inside-out is the reason discovery experts recommend transcribing shows, and posting the transcriptions. Google bundles that content into its search results and can drive traffic to a program whose title, host name, and brief episode summary cannot by themselves find a large portion of a show's addressable market. That's why iTunes and other podcatchers are pretty dumb search engines. Audio is opaque.
Podcat stands for Podcast Catalog, and describes itself this way: "Podcat was created to help people discover new podcasts and to celebrate and promote podcasters. Podcat tracks mentions of people through millions of podcast episodes and is updated thousands of times every day."
It's a refreshing X-Ray view that reveals the personalities in podcasts — who's in and who's not. Along the way, you'll find some good shows you didn't know about.