The Download on Podcasts is a weekly feature sponsored by PodcastOne. This week, PodcastOne's own dramatic investment in sales and marketing resources is the subject.
---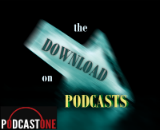 Three weeks after announcing a 30% equity investment from Hubbard Radio, podcast network PodcastOne has hired five sales/marketing executives and expanded its sales effort from home base Los Angeles to New York, Chicago, and Dallas.
Lori Spencer (formerly with TargetSpot and Sirius XM) and Linda McHugh (from programmatic platform Netmining) were added to the L.A staff. Keith Goldstein was hired from ESPN and programmatic audio pioneer Jelli to be in New York, Dave Boretti (from SBS) is in Chicago, and Joe Laffey leaves EFG Companies to represent in Dallas.
Yesterdays announcement was brief: "PodcastOne […] is wasting no time in expanding its sales and marketing teams nationally, now that the recent investment from Hubbard Broadcasting is in the bank."
When the Hubbard deal was announced, PodcastOne founder Norman Pattiz told RAIN News, "We got some money for this. It gives us a budget. We're going to hire more people in sales and marketing. We'll probably open up in Chicago and maybe Atlanta." So an Atlanta announcement might be forthcoming.
Kit Gray, PodcastOne co-founder and President, will speak at RAIN Summit Atlanta, September 29.