Join RAIN's Kurt Hanson and Brad Hill in Atlanta on Tuesday September 29th for RAIN Summit Atlanta, a partner event to The Radio Show produced by NAB and RAB!
---

RAIN Summit Atlanta is a premiere educational and networking event for the Internet radio and the online audio industry, taking place as a partner event to the NAB and RAB Radio Show.
Join RAIN News Publisher Kurt Hanson and RAIN Enterprises VP/Managing Editor Brad Hill, for a full day of panel discussions and presentations on all aspects of the evolving online audio marketplace, followed by the best networking event in the industry, the RAIN Summit Cocktail Party.
10:00-10:45





Registration Check-in

 
11:00-11:45


Panel


Podcasts Are The New Black

Brought to you by PodcastOne
Whether you create them or consume them, podcasts are the hottest online audio trend this year, raising the bar for innovative content as well as advertising. We'll explore the best practices of on-demand audio in this discussion.

MODERATOR: Steve Goldstein, Founder/CEO (Amplifi Media) SPEAKERS: Robert Proctor, CEO (AudioBoom); Rob Greenlee, Head of Content (Spreaker); Kit Gray, President (PodcastOne); Brendan Monaghan, CEO (Panoply); John MacLeod, CEO (Rivet Radio).
11:45-11:55


Pecha Kucha


Pecha Kucha

presented by Frank Murray, President & Founder, Zocle
11:55-12:40


Panel


Re-positioning Online Audio for Mobile

Brought to you by XAPPmedia
Positioning online audio as an enhanced mobile platform may be a strategically sound idea given advertiser interest in mobile. This panel will discuss the imperative of audio being a mobile-first medium.

MODERATOR: James Cridland, Radio Futurologist, Managing Director (media.info). SPEAKERS: Bryan Moffett, General Manager (National Public Media); Lisa Namerow, SVP, Business Development & Publisher Relations (XAPPmedia); Cheryl Lucanegro, VP of Sales (SoundHound); Ryan Burgoyne, CEO, (Commotion), Gadi Mazor, Founder/CEO (Nobex Technologies).
12:40-1:00


Break


Break

Networking break brought to you by BRSMedia/dot.FM
1:00-1:35


Panel


Digital Drivers of Radio Revenue


Many broadcasters have created digital agencies that expand their offerings well beyond audio. This session will showcase some of those offerings and discuss the revenue opportunity that this strategy offers.

MODERATOR: Michael Fischer, Director of Business Development (RAIN). SPEAKERS: Jennifer Williams, Director of Interactive Marketing (Greater Media); Shannon Allen, VP of Digital Sales (Federated Media); Anthony Bratti, SVP of Business Development (BuzzBoard); Rob Kass, VP, Product Leadership, Digital Audio (Nielsen).
1:35-2:05


Keynote


Jake Shapiro, CEO of PRX, the largest public radio market for audio.
2:05-2:20


Research Presentation


Research Presentation:
Roger Lanctot, Strategy Analytics
2:20-2:40


Break


Break

Networking break brought to you by Triton Digital
2:40-3:10


Interview


Interview:
Matt Cutair and Jennifer Hungerbuhler
3:10-3:55


Panel


Simulcast Strategies

Presented by AudioHQ
To simulcast or not is an old question with new life for streaming broadcasters given the new rules for total audience measurement. What are the pros and cons that weigh into a decision to simulcast – hear both sides in this discussion.

MODERATOR: John Gehron, COO (AccuRadio). SPEAKERS: Susie Hedrick, VP of Radio Sales (WideOrbit); Bill Hansen, SVP, Sales Operations (Cumulus); Tim Murphy, VP, Digital Strategy & Enterprise Platforms (Entercom); Carolyn Gilbert, Founder and President (NuVoodoo Media); Matt Nystrom, VP, Digital Media (Saga Communications).
3:55-4:15


Break


Break

Networking break
4:15-5:00


Panel


Online Audio's Programmatic Path


Online audio's audience is growing, and so is interest in it. As attention among advertisers to the power of sound increases, so does the need for streamlined access to the inventory. Hear experts discuss how programmatic platforms can help publishers and advertisers connect the dots that spell revenue growth for the industry.

MODERATOR: Brad Hill, VP & Managing Editor (RAIN). SPEAKERS: Mike O'Neil, VP Programmatic Sales (Triton Digital); Dave Smith, VP, Pricing & Yield Management (Pandora); Cordie DePascale, VP Product Management (Mediaocean); Manny Rodriguez, VP/Media Buying Director (22squared).
5:00-5:15


Research Presentation


Research Presentation:
Radha Subramanyam/iHeartMedia
5:15-5:45


Keynote


Keynote:
Kurt Hanson, Publisher of RAIN News
5:45-6:00


Awards Presentation


Rain Awards Presentation

Presented by Kurt Hanson and Brad Hill

Shannon Allen
Federated Media
VP, Digital Sales

Bill Hansen
Cumulus
SVP, Sales Operations

Anthony Bratti
Buzzboard
SVP, Business Development

Ryan Burgoyne
Commotion
CEO

James Cridland
Media UK
Managing Director


Cordie DePascale
Mediaocean
SVP Product Management & QA

John Gehron
AccuRadio
Founder/ COO

Carolyn Gilbert
NuVoodoo
Founder/ CEO

Steve Goldstein
Amplifi Media
Founder/ CEO

Rob Greenlee
Spreaker
Head of Content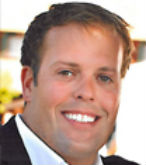 Kit Gray
Podcast One
President

Kurt Hanson
AccuRadio/RAIN Enterprises
Founder

Susie Hedrick
WideOrbit
VP, Radio Sales

Brad Hill
RAIN Enterprises
VP & Managing Editor

Jennifer Hungerbuhler
Dentsu Aegis
EVP Managing Director/Local Video and Audio Investment

Rob Kass
The Nielsen Company
VP, Digital Audio Product Leadership

Roger Lanctot
Strategy Analytics
Associate Director, Global Automotive Practice

Cheryl Lucanegro
SoundHound
VP, Sales

John MacLeod
Rivet Radio
CEO

Gadi Mazor
Nobex Partners
Founder/CEO

Bryan Moffet
National Public Media
General Manager

Brendan Monaghan
Panoply
CEO

Tim Murphy
Entercom
VP, Digital Strategy & Enterprise Platforms

Lisa Namerow
XAPPmedia
SVP, Business Dev. & Publisher Relations

Matt Nystrom
Saga Communications
VP, Digital Media

Michael O'Neil
Triton Digital
VP, Programmatic Sales & Partnerships

Robert Proctor
Audioboom
CEO

Manny Rodriguez
22squared
VP/ Media Buying Director

Jake Shapiro
PRX/Matter Ventures
CEO/Founding Partner

Dave Smith
Pandora
VP, Monetization & Yield

Radha Subramanyan
iHeartMedia
President Insights, Research & Data Analytics

Jennifer Williams
Greater Media Inc.
Director, Interactive Marketing