The Download on Podcasts is a weekly feature sponsored by PodcastOne.
---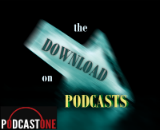 Last week PodcastOne (sponsor of this column) announced that it recorded 1.5-billion downloads in 2015, across its portfolio of 200 programs. PodcastOne represents a glittering array of podcast star power, including Marc Maron and Adam Carolla, who recently re-signed with the network.
In a conversation with RAIN News, PodcastOne founder Norman Pattiz expressed frustration with media generalizations which sometimes assert that public-radio program Serial is the most successful podcast ever, with over 80-million downloads.
He has a good point. Serial collected headlines by exceeding iTunes download records early in its first-season run — specifically, the fastest show to reach 5-million downloads. Pattiz has publicly given Serial credit for galvanizing public awareness of podcasting and lifting the whole category. "Podcasting owes a debt to Serial that can never be repaid," he proclaimed last year at RAIN Summit West.
A Few Problems
But there are two problems with overstated estimates of Serial's success. One is that it relates to iTunes metrics, which, though representing a major portion of consumer acquisition of podcasts, is not the whole picture. The other is that downloads do not necessarily equate to listens, so using downloads as a key metric is increasingly problematic.
Podcast networks like PodcastOne handle their own analytics, of course, and can tell proprietary audience stories to advertisers. It's a tricky game, because no matter how good your story is (e.g. 1.5-billion downloads at PodcastOne), it is messed up by the iTunes black box which presumably holds metrics about everyone's shows that neither producers not distributors can see.
Network Solutions
But networks like PodcastOne, Midroll Media, Blubrry, Acast, and many others can at least be more granular with their own metrics, separating plays from downloads, measuring partial listens, ad impressions, and more. That's a good thing for everyone in the value chain — podcasters, networks, and advertisers.
With no solution to the "iTunes problem" at hand, the movement now is to private ad solutions, in which the sales-intensive networks have a head start. That head start probably helped close equity deals in which PodcastOne brought in a 30% investment from Hubbard, and Midroll Media was acquired outright by Scripps, both in 2015.
Technology to the Rescue?
Technology is also moving ahead to better monetize podcasts in alignment with actual usage rather than theoretical listens represented by downloads. Today's announcement from Panoply that it has launched the Megaphone publishing and ad platform, leveraging assets from its 2015 acquisition of Australia-based Audiometric, promises a complete content management and ad-injection system for professional podcasters. Similarly, UK-based audioBoom partnered with WideOrbit last May for ad injection on its on-demand platform. (One difference between Megaphone and audioBoom is that the latter is an open system that any indie/amateur podcaster can use. Megaphone might move in that direction, a spokesperson told RAIN News, but not to start.)
All this points to a severely siloed podcast industry that appears integrated on the public-facing side, thanks to most programs being available in iTunes and other open podcatching apps. On the business side, though, it is each network for itself, not unlike music streaming services that sell ads against Internet radio streams. The difference is that with music streaming, Triton Digital provides recognized and accredited third-party ratings. Advertisers can compare audiences and their attributes across platforms like Pandora, Spotify, and Slacker. In podcasting, that sensible marketplace view is a luminous mirage.