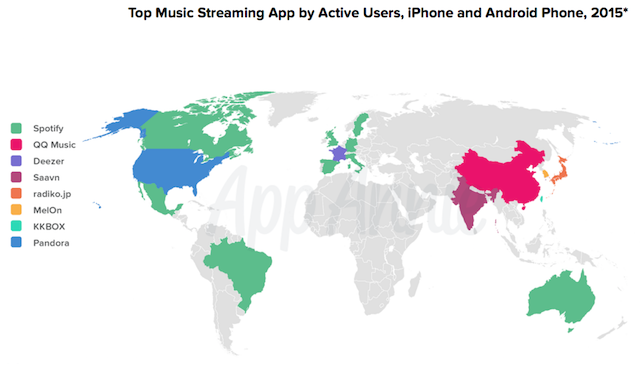 App Annie released its 2015 Retrospective report, and as usual, it has some pointed insights into both the mobile and mobile music markets.
We've seen some data pointing to mobile as a big source of activity for the modern listener, and App Annie's results confirm that trend. Global revenue from the top 10 music-streaming apps clocked in at 2.2 times more than the 2014 total.
Spotify took the crown for revenue and users worldwide, but there are several countries where more localized streaming services had the most participation. The U.S. is led by Pandora in active users, but the online radio service wasn't able to outpace its rivals in any other markets where it operates; Spotify held the top spot in Australia. China is topped by QQ Music, France by Deezer, India by Saavn, and South Korea by the (recently acquired) MelOn.

In terms of general mobile performance, the report found that worldwide app downloads from the Google Play Store have risen to about twice the number happening on the iOS App Store. The Android platform increased its download lead from 60% more than Apple in 2014 to nearly 100%. Brazil, India, Indonesia, Turkey, and Brazil were the top five contributors to Google's spike, generating about half of its on-year download growth. However, Apple remained in the lead for global app revenue last year.