The Download on Podcasts is a weekly feature sponsored by PodcastOne.
---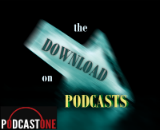 Podcasting is an ultra-personal genre of audio. Started a decade ago as an extension of personal blogging, it has maintained its host-as-friend attitude through the years. The trusted host, as a podcast institution, drives much of the chatty direct-response marketing so common in popular podcasts.
But podcasting is not only that. Some story-driven shows that have gained traction put the tale before the teller — witness the landmark success of Serial. That production, and others like it, are more corporate. Serial was/is a public radio project whose audience was funneled by broadcast promotion, and whose high production value resulted from costly corporate resources.
Beyond that, some media brands are extending directly into podcasting, leveraging their own promotional power. Those podcast producers, such as The New York Times and Huffington Post, fit podcasting into wide and powerful ecosystems of branded content across several categories. The Huffington Post, as an example, operates a suite of international publications, a 24-hour online TV product, and podcasts.
This week we learned of two legacy magazines leaping into the space: Esquire and The New Yorker. Both venerable; both still printing paper. Esquire has launched a three-episode series on PRX, documenting the magazine's most-read stories over many years. The New Yorker's project is less defined today, but the business arrangement is clear: the magazine is partnering with NPR flagship WNYC-FM, and the new show will be a hybrid broadcast/podcast product. What's it about? Publisher Lisa Hughes said, "The programming […] will be loosely inspired by the magazine and the brand and cover the range of topics that we cover at The New Yorker." So, early days conceptually.
Another new program is of interest inasmuch as it represents a prospective advertiser jumping into the creation business to extend the brand. Called The Message, it is an eight-part science fiction serial produced by General Electric, via a new entity called GE Podcast Theater. Why advertise when you can be the producer? Well, advertising is a more direct messaging medium than an ad-free podcast with a branded production credit. GE is quoted saying the project is more about engagement than marketing.
The first show, released last Sunday, is pretty engaging to our ears. It has the feel of old-time radio, somewhat modernized. It's possible that the publicity around this podcast launch will expose the GE brand as much as the program will.
A podcast is relatively easy to produce. That statement might offend some, but it's certainly true compared to video or TV production. As more brands swarm into the space, bringing mighty production values with them at relatively low cost, the result will be the increasing professionalism of podcasting, targeted to mainstream audiences. Anyone can throw a piece of audio onto the Internet, with nothing more than a phone and their voice. But as every creator gambles to cut through the noise of 300,000 podcasts, high-quality production becomes table stakes.