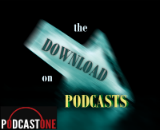 The Download on Podcasts is a regular feature sponsored by PodcastOne.
---
Podcasts that derive from pubic radio stations and producers continually populate iTunes charts and Podtrac rankers. Serial, widely credited with sparking some amount of mainstream awareness of podcasts, came from the public radio hit This American Life. Many of public radio's most popular programs are not "native" podcasts — which is to say, they started as broadcast programming and gained digital success in archived form. Instant podcast.
While commercial U.S. radio has leveraged that model to some extent, it's safe to say that public radio has an inside track of programming that attracts a younger, online audience. But that doesn't mean a challenge-free runway to soaring success, as a newly released study by the Knight Foundation makes explicitly (and quite informingly) clear.
(To get the full view of broad learnings from this study, you have to read the whole thing. It is posted in Medium HERE, and a sparsely produced PDF is HERE.)
The study, titled From Airwaves To Earbuds, is focused on podcast entities that Knight Foundation has invested in via grants. Citing a philosophy of working alongside grantees, the foundation conducted extensive interviews with podcast professionals in the spring and summer of 2016. The participating grantees were Project Carbon, Radiotopia, Gimlet Media, New York Public Radio's Discover app, and Radio Public.
A memorable series of quotes compares podcasting to satellite radio, blogging, the Wild West, premium cable, public radio "back in the old days," Netlflix, Spotify, and the moment when newspapers had to be on the web.
Key findings are:
There has been success in growing new audiences of listeners who are younger, and might not be attached to traditional radio.
New revenue paths are being created, and existing ones can be reinvigorated — e.g. NPR One feeding app registration data to local audiences, which can use those data "to replenish an aging audience."
The public radio broadcast system faces challenges in "audience-first digital delivery" — which in this report means creating content for a specific topical audience instead of a local station audience.
Most of the report is taken up with 10 broad themes that range from changing audiences to the role of local news in attracting them, lack of diversity in the podcast industry, the migration of talent from public radio to podcast startups, the creative economy of on-demand audio, technology infrastructures, and the lack of an audience measurement standard.
We recommend the study as a good weekend read.