The Download on Podcasts is a weekly feature sponsored by PodcastOne.
---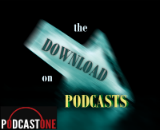 The business side of podcast has grown to resemble streaming music. In both realms, most content reaches listener ears with commercials attached. Granted, the type of advertising differs — radio-style 30-second spots in streaming music, sometimes accompanied by "companion" video and display elements. Podcasting traditionally favors direct-response calls to action read by hosts, a style also borrowed from radio.
But that stylistic difference is becoming eroded as audio advertising technology which got its start in music services gets repurposed for podcasting. Injected, pre-recorded, even programmatic advertising is making inroads to podcast shows on some platforms.
In music, the advertising model funnels some portion of the audience to membership subscriptions, where the commercials are eliminated and the content choices are more interactive and personalized. There is an imbalance there, as most people (perhaps trained by AM/FM radio) prefer to bear with the ads in exchange for free listening and reduced choice. Curiously though, on Spotify at least, the less-used subscription part of the business makes much more money than the more-used "freemium" listening.
That model presents an opportunity for podcasting, and an experimentation phase seems to be underway now.  Three examples:
Two months ago PodcastOne (which sponsors this column) launched PodcastOne Premium, which offers reduced commercial load, and back episodes from the archives of participating shows. At RAIN Summit West in April, company founder Norm Pattiz framed the venture as an experiment: "We'll see what happens." He noted that repurposing a show's back catalog was part of the business rationale: "Ninety percent of consumption takes place in a relatively short amount of time. Even with ad technology that can put corrects ads into old shows, there's not much money to be made there."
At Midroll Media, the Howl subscription plan was inaugurated last August, just after Midroll was acquired by E.W. Scripps. Howl offers its balance of the same standard value propositions: Fewer commercials (none in Howl's case) and easy access to years of archived shows. As with PodcastOne, Howl was preparing original content behind the paywall as well.
This week Acast introduced Acast+, which takes a different angle. Acast+ is a program for producers of Acast-hosted programs. The back-end platform now allows creators to set up mini-plans specific to their shows, in a bid to attract subscribers. Acast supports the effort with an Acast+ app, which aggregates all participating content. This slant resembles crowd-funded subscription service Patreon, which enables podcast (and other content types) to raise ongoing funds via pledges of monthly giving — rather like being a sustaining member of NPR.
It's easy to predict that podcast subscriptions will continue to sprout. Given enough content volume, there's no reason not to do it. The open question is whether listeners will pay tolls to get behind firewalls of special content, or a better experience. It took music many years to gain ground in convincing consumers that music was a worthwhile subscription product — and it's still an uphill climb. Podcasting has the same always-been-free challenge.