In a new dimension to its business model, PodcastOne is going Premium with a subscription plan that adds features and values to the regular free-listening options.
In PodcastOne Premium, subscribers get on-demand access to the company's own show archives, plus limited commercials in new episodes. Multimedia content, giveaways, and member events are packed into the value proposition. At the center of the Premium tier is a deal with popular podcaster Adam Carolla, who has moved his premium collection to PodcastOne's platform and is making a series of exclusive interview for PodcastOne Premium.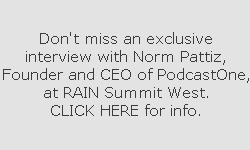 Premium will cost $7.99 a month, but listeners can also choose to sign on for a one- or two-year membership at a discount. The one-year membership costs $59.99, while two years will run you $99.99.
"This will be the best Premium podcast platform out there," said Norm Pattiz, PodcastOne Chairman and CEO.
A growing number of podcasting and audio platforms are experimenting with this paid membership as a business model. Podcast network Midroll Media debuted a similar premium program in August. TuneIn added a Premium tier the same month with several new content initiatives.