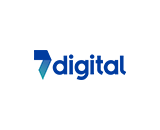 7digital released its financial results for all of 2015, following up on the preliminary figures shared in January. Total revenue for the year was £10.37 million, up from £10.21 million in the previous year. Licensing revenue rose 21% to £6.5 million, making it 63% of the full-year revenue. As initially predicted, monthly recurring revenue also increased for the year while content revenue fell 44%. The company reported an operating loss of £3.15 million, compared with 2014's operating loss of £4.5 million.
"We remain confident that the Group will achieve profitability by the end of 2016, and of continued good progress this year and beyond," CEO Simon Cole said. "I am excited for the future of 7digital. We are successfully implementing a clear strategy to pursue opportunities in a market that is developing as we anticipated and through which we are intent on delivering strong returns to shareholders."
In addition to the financial reports, 7digital also announced that it signed on five new clients in the first quarter of 2016. The new contracts with Global Radio, i.am+, Red Bull Media House, Klassik Radio, and Mus have a cumulative lifetime value of £3.6 million.