The Download on Podcasts is a weekly feature sponsored by PodcastOne.
---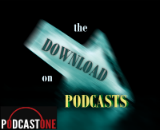 NPR, some of whose podcast programs reside near the top of the iTunes podcast charts, has created a new podcast directory called Earbud. Good name. And it's an effective counterpoint to the impersonal, data-driven Top 100 lists on iTunes.
NPR solicited recommendations from a large panel of influencers in the podcast universe, and compiled the suggested shows into a 200-program recommendation portal. Growth is presumably in the wind — the site now lists 228 shows. The relatively small universe represented by Earbud (compared to about 300,000 podcasts in iTunes) is an intentional reduction to help with choice paralysis and what is increasingly recognized as a discovery problem in a category that is overflowing with content.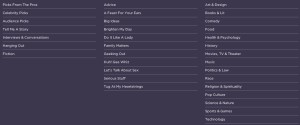 Also helpful, and clearly differentiated from iTunes, is the classification system. While iTunes relies on topical boundaries to keep its lists separate, Earbud uses tags that more descriptively lead users to types of programs that are endemic of podcasting. So, "Hanging Out" is for chatcasts, a traditional and highly populated type of podcast. that's where Flophouse and the Indoor Kids are listed. "Advice" is self-explanatory. "A Feast for Your Ears" holds highly produced content, sometimes featuring music. Earbud also divides the catalog by the usual topical sections. Any program in this directory can be classified with multiple tags.
Earbud is a production of the NPR Arts, Book, and Culture desk. "Podcasts as a form of mainstream journalism and entertainment have reached a level of influence in our culture that deserves the kind of editorial attention our cultural news department gives to books, movies and music," says the announcement.
In our view, Earbud hits a sweet spot between the towering content mountain of iTunes and top-10 list website reviews. It is much more descriptive and helpful than discovery screens in Pocket Casts and other aggregator apps. The site also connects users to podcast creators and their websites effectively. Earbud accepts podcast recommendations from anyone.
In contrast with the increasingly dated download ethci which still governs some podcast listening apps, Earbud is a streaming service. The reason is that Earbud is for discovery, not for subscribing or collecting. You can't build a list of shows in the site, or see the program feed. But it makes it easy to locate those things, and along the way provides an addictive discovery environment.