The Download on Podcasts is a weekly feature sponsored by PodcastOne.
---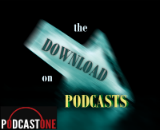 As this column often notes, podcasting is a content category in fast evolution, growing up in every way after a 10-year childhood. Is the industry in adolescence? Young adulthood? Perhaps the growing-up metaphor needn't be that exact. The point is that podcasting is outgrowing its early trappings, building its awareness and audience, attracting the interest and investment of more mature industries, becoming more professional and presentable.
The institutional presence in podcasting is a mark of the category's professionalization. In some cases it's a takeover presence, as in the whole acquisition of Midroll Media by legacy media powerhouse E.W. Scripps. Note also the partial takeover of PodcastOne (sponsor of this column) by Hubbard Radio. Both examples represent old media meeting and embracing new media. For radio, podcasting provides a venue for competing with online audio that music does not provide as easily.
Buying In and Building Out
Now we are seeing an institutional progression from buy-in to build-out, as old-school media companies construct their own podcasting empires (or would-be empires) from the bottom up.
This week we saw that the New York Times ("All the News That's Fit to Print" — or, wait, listen to?) has established an audio division for the production of on-demand audio. In a special Times article that serves as a job listing for an Executive Producer to head the unit, the news corporation asks, "What should The New York Times sound like?"
That is a blockbuster question which illuminates the powerful sway of podcasting on media executive decisions, and a potential turning point for how the internet is focused.
Consider this: Facebook does not have a native audio function (about which we have complained many times). You cannot record a 15-second comment in your phone and post it on Facebook, like posting a photo. The New York Times is announcing that it will sound like something. Facebook is not asking what it should sound like, and has no public intent to sound like anything.
Video began overtaking the business interest of the commercial internet many years ago. Video advertising CPMs are much higher than web display CPMs (but not necessarily higher than podcast CPMs we have heard about off the record from several networks). Audio has fallen behind for a few reasons. Video is naturally immersive, and the internet's takeover of TV is also natural. On the audio side, the internet is disrupting radio on one side, and the music industry on the other side, non-interactive and interactive services, respectively. But those audio disruptions have been powered mainly by music, and archaic music licensing laws (in the U.S.) make music podcasts nearly nonexistent.
A Natural Fit
Talk-oriented podcasting, nearly the entire industry, is a natural fit for radio (Hubbard), cross-category media companies (Scripps), and news organizations that are lightweight multimedia participants but are looking for brand extension and relevance (New York Times).
Recognized media brands wanting to buy into podcasting without the risk and expense of building out a division as the Times is doing can take the partnership route. We have seen plenty of those, from Vanity Fair locating its show on Panoply, to The New Yorker Radio Hour hooking up with WNYC for production and distribution. (WNYC has itself made a Times-like investment in a dedicated podcast production division.) The NY Times announcement is gutsy and exciting. It drives the podcasting stake deeper into the ground. And, just as important, it is an important piece of audio advocacy in an internet nation which too often ignores audio.