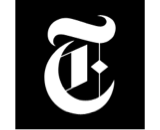 The New York Times is making a new foray into audio programming, forming a team to spearhead podcast creation. At first, this new division of the news organization will rely on outside partners, such as its Modern Love podcast produced with Boston's WBUR, that already have an audience. Kinsey Wilson, the Times' editor for innovation and strategy, said that no themes or shows have been decided on yet.
"We expect our audio report to further expand our storytelling arsenal and allow us to connect with our audience in ever more ways, along the lines of our pioneering work in virtual reality and visual journalism," Wilson said.
To that end, the Times looking to hire an executive producer to lead its efforts in podcasting and audio. The executive producer will be tasked with guiding the publication's creative vision for audio, as well as leading the conception and launch of new shows. It is also seeking a senior editor to join the team.
The newspaper has been making many explorations into what a news outlet can look like in the digital age. It already has a few shows on its audio roster, including podcasts from its Book Review and Music departments. Other legacy print media companies, including Esquire and the New Yorker, have also been beefing up their efforts in the podcast space.