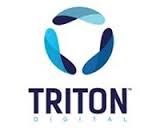 Triton Digital is partnering with Telos Alliance on some of the company's hardware. It will be the new streaming partner for Telos' Z/IPStream R/2 processor.
"By switching to this processor, audio publishers will significantly reduce operation costs and streamline the implementation process, removing the burden of setup and maintenance of IT personnel," said Samuel Sousa, Triton's solutions and technology specialist. Through this partnership, Triton clients will have access to Telos' processor platform.
Triton has announced several new deals in recent months. The company's a2x programmatic exchange has linked up with Tuned Global and Adforce.com. Its Tap Podcast platform will also be providing ad services for NPR and Australian service Whooshkaa.