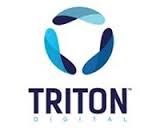 In the latest expansion of its programmatic technology reach, Triton Digital has reached a partnership with Adforce.com to operate the a2x platform in several European national markets. Adforce.com will bring the platform to Ireland (where Adforce.com is located), Belgium, Denmark, Finland, Greece, Iceland, Italy, Norway, Sweden, and Switzerland.
According to Colm Grealy, CEO of Adforce.com, his company carries "thousands of campaigns for many major international brands." He emphasized the value of targeting audience segments based on behavior, device, location, and demographics.
"Adforce.com is the perfect partner to operate a2x in Europe," said John Rosso, President of Market Development at Triton Digital. "With a reach of more than 50 million audio listeners and extensive knowledge of the European advertising industry, their ability to create value for both advertisers and publishers is unparalleled."
Adforce.com will be the exclusive operator of a2x in the assigned territories.
In January, Triton Digital partnered with Audio.Ad to extend the a2x system to key Latin American territories. Other alliances have placed the ad exchange technology in Southeast Asia and Australia. Podcast networks Spreaker and Acast are also participating in a2x.