Spotify has expanded its listenership measurement study, produced by TNS, and today released results of a survey conducted in Canada. The first version of what has turned into an ongoing piece of consumer research was focused on 15 European countries, and that study was released in September.
The Canadian edition can be freely accessed here. Like the European study, the Canada survey measures listening to terrestrial radio and to Spotify's free online radio service (Spotify Free, commonly known as Spotify's freemium plan), and demonstrates that Spotify's audience provides incremental additional reach to radio advertisers. The competitive message is not that Spotify seeks to replace radio advertising, but to augment it by bringing a shard of unduplicated audience to the market.
TNS surveyed 1,000 audio listeners in the Toronto area, ages 15-65. "We found that Spotify is in a unique position to reach audience segments that are difficult to reach through commercial radio," according to the release notes.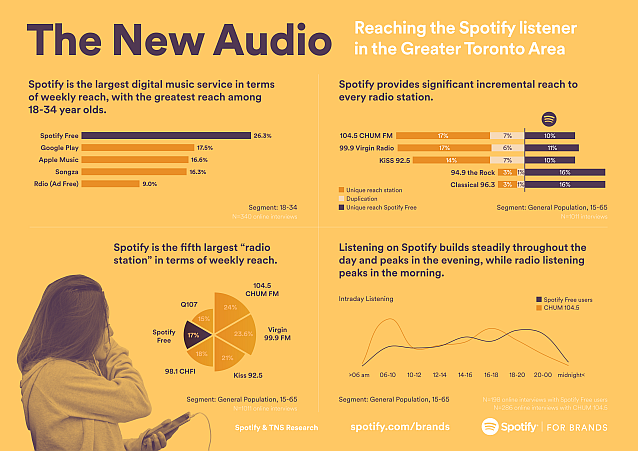 Specifically, the survey reveals that Spotify adds double-digit additional audience reach to five major Toronto-area radio stations. Looking at overall reach, TNS found that Spotify is the fifth-largest "radio station" (quotes provided by Spotify) serving Toronto, across the whole survey population.
As with many of the European country results, charting the ebb and flow of daypart listening demonstrated Spotify's main point of complementarity — Spotify listening builds through the day, while radio listening shows peaks and troughs according to drive times. Evening hours appear to be Spotify's prime time.
This ongoing study represents a broad message to all observers of the streaming audio industry who think of Spotify mainly as a subscription service. While the subscription part of Spotify's business is higher-margin, and impacts the recording industry, the larger portion of Spotify's global audience uses the ad-supported freemium service, which competes primarily with radio. the positioning of the survey results is more collaborative — Spotify's audience complements radio's audience, to the advantage of marketers who use audio advertising.