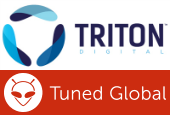 Tuned Global and Triton Digital have reached a partnership in which Triton's ad-exchange technology will monetize Tuned Global's mobile apps. Specifically, Triton's a2x programmatic platform will transact sales across the white-label service Tuned Global offers.
Tuned Global might not be a familiar name to some U.S. observers, but the company has established a leadership position in Australia and Southeast Asia, providing streaming music, app development, and music download stores to companies of all sorts that use music for product promotion, brand extension, and business development. The company claims to be the number-one streaming platform in these regions, based on audience footprint, streaming 500-million songs and downloading 100-million tracks.
Triton's a2x will power monetization of Tuned Global's mobile streaming. "The inventory will be packaged with consumer data containing information on online purchase intent, household demographics and behavioral propensities, allowing advertisers to reach highly targeted audiences in Australia, New Zealand, Southeast Asia and the United States in real-time," Triton said in its announcement.
"As a mobile-first company committed to delivering an exceptional listening experience, the ability to inject premium, targeted ads that are both relevant and engaging is critical," said Con Raso, Managing Director at Tuned Global. "A highly engaged audience means more ad impressions to serve, and a highly segmented audience is an opportunity to drive higher ROI for our advertising and brand partners."