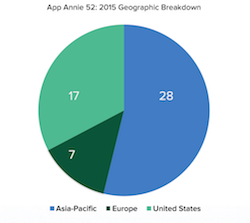 The mobile analytics experts at App Annie are still churning out reports on 2015. This week, the company revealed the top app publishers from the year. Based on worldwide annual revenue from both iOS and Google Play, the top publishers favored games and messaging services. However, two streaming services successfully shouldered their way into the rankings: Spotify landed the No. 28 spot and Pandora ranked No. 43.
The results showed a bias toward companies in the Asia-Pacific region, with 28 of the 52 located in that part of the world. The United States was home to 17 of the publishers and Europe had just seven.
App Annie's full 2015 retrospective also showed a strong performance globally from Spotify. But it also pointed to an increase in localization, with homegrown services outpacing international ones in several countries.