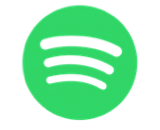 Investment firm TPG Capital is reportedly considering an investment in Spotify. Sky News said that TPG is in talks to provide financing of as much as $500 million in loan notes, which could lead to Spotify increasing the size of its offering to up to $1 billion. These alleged fundraising plans come as Pandora continues to voice its intention to build a competing on-demand music service in 2016.
Spotify's most recent valuation was last year, when a funding round of $526 million saw it pegged at about $8.5 billion. At the same time, the streaming service announced that it had more than 20 million paying subscribers and 75 million active users. As Spotify grows its audience and its financial resources, this new round could be put toward an acquisition, or other efforts to secure a bigger share of the digital market.
After just two months, 2016 is already shaping up to be a big power play year for streaming music. Not only is Spotify amassing a war chest, but Pandora is also ramping up efforts to compete for dominance in the digital music realm. Pandora already snapped up Rdio after it declared bankruptcy, and had its own fundraising news come across the wires in December. We've heard plans from CEO Brian McAndrews immediately after the acquisition and along with Pandora's latest financial results. It will be rolling out an on-demand platform this year, putting Pandora and Spotify in immediate competition.