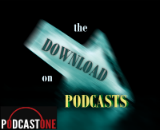 The Download on Podcasts is a regular feature sponsored by PodcastOne.
---
Podcast listenership is growing. But … faster, faster!
That seems to be the impetus behind the #trypod movement, which admonishes listeners to publicize their favorite shows. Reportedly the brainstorm of Israel Smith, Senior Director, Promotion & Audience Development at NPR, #trypod is a social hashtag getting pretty good play on Twitter and Facebook. In the time it took to type the four sentences preceding this one, 12 new #trypod tweets appeared under the hashtag.
According to AdWeek, Israel Smith introduced the idea to a group of podcast producers last year, and March 2017 was targeted to launch the campaign. It's a month-long thing, or will try to be.
This (co-produced by WBEZ, NPR, and Midroll Media):
Social sharing of favorites is popular in all media categories, so no reason to think this won't gain some degree of virality. Whether it will introduce newbies to podcasting is uncertain, but it can certainly spread audience around to shows that aren't at the top of the iTunes lists. Especially if listeners speak up for the quirky favorites to balance the inevitable tide of media powerhouses appropriating #trypod to bolster their own leadership positions.
Of course there are examples of fans tweeting their allegiance to established hits. the experiment would be best served by high-influencer personalities sharing their podcast passions, especially off-the-beaten-path shows. So, @kanyewest, @ohjoy, @JKCordon, @DJKhaled — promote your favorite podcasts! (Or if you don't  have any, start following #trypod.)
---