The Download on Podcasts is a weekly feature sponsored by PodcastOne.
---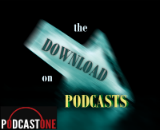 Donald Trump will controversially appear on Saturday Night Live this weekend, hosting the show. The controversy has two points. First, that presenting an inflammatory figure on a comedy show has the optics of a flagrant ratings play during a sweeps month. Second, that the appearance arguably triggers equal time regulations that would make NBC give other candidates as much exposure.
Not lost in that publicity glare is another booking — Donald Trump on Larry King's podcast, in the PodcastOne network. (PodcastOne sponsors this weekly column.)
Is podcasting becoming the new TV for politicians?
If so, it got started when President Obama strolled into Marc Maron's garage to record a one-hour podcast conversation. That was a categorical podcast breakthrough, possibly as important as Serial, causing a spike in listening for Maron's show and a blast of awareness of podcasts internationally.
Any medium that is growing fast and has special characteristics is attractive for politicians seeking to build their brands with certain population groups. When Bill Clinton played saxophone on Arsenio Hall's show in 1992, he leveraged TV in a new way to reach a particular demographic. Decades earlier Richard Nixon lost an election to John F. Kennedy, famously and partially because he didn't appear attractively on TV.
Social media emerged into the political sun gradually through the late 1990s and through the early 200s. YouTube began participating in candidate debates. Over the years, any candidate that exhibited cluelessness and non-participation in Facebook and Twitter increasingly lost traction with populations that relied on those platforms for current events. Hillary Clinton appeared on The Tonight Show with Jimmy Fallon recently, and one (seemingly prepared) portion of their conversation reviewed her familiarity with, and avowed affection for, social media including Vine.
Politicians on podcasts is next, galvanized by the Obama and Trump appearances. For Donald Trump's appearance, PodcastOne is bringing in a social element by soliciting questions from listeners … via Twitter, of course.