The Download on Podcasts is a weekly feature sponsored by PodcastOne.
---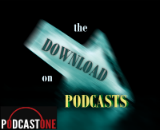 After months of waiting, Google's on-demand music service, Google Play Music has launched its podcast section. In doing so, Google joins Spotify, Deezer, and Pandora by incorporating podcasts into a music-only catalog.
This is not the long-awaited Android podcasting app to compete with Apple Podcasts, though there might be some competitive effect. Google podcasts are buried in Google Play Music, and that is a key difference. Apple buts the Podcasts brand right onto the iOS mobile desktop, inviting users at all levels of podcast awareness or newbieness to explore. An iPhone user who first hears about podcasts today can see exactly where to proceed. If Apple had taken Google's approach, podcasts would be hidden in Apple Music.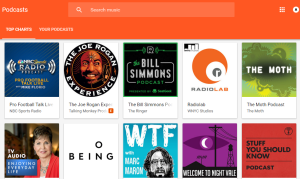 Still, Google adventure into podcasts is important by virtue of the Android's immense user footprint, much bigger than Apple's iOS.
Here are four things to know:
Whisper-soft launch: Despite the long lead-in, Google is stepping quietly into the podcast space with a modest blog post announcement. Inside the product there is no splashy announcement, and you have to notice an additional menu item to even know that podcasts exist in there.
Web only: although Google announced the podcasts on its Android blog, the feature is available in the web app only, with an Android rollout coming next. In an email sent to podcast producers, forwarded to RAIN News by a major distribution platform: "The rollout on Android devices will be gradual, so users may not see podcast content on the Google Play Music app immediately."
Teensy catalog: Although it's difficult to see the entire collection of launch shows  (which seems needlessly restrictive), Google is hardly dipping a toenail into the oceanic podcast realm to start. We know from conversations with large-scale podcast publishers that much more is coming. Even without those industry discussions, Google's "podcast portal" invites any podcast producer to submit program feeds.
Stream, baby, stream: As far as we can tell, this could be the first podcast listening app which only streams. No downloads. This column has discussed the conflict of streaming and downloading, and we've banged the drum for streaming as a necessary evolutionary step for podcasts. Google still uses the outdated "Subscribe" (instead of, say, "Follow") model for collecting show pages, but that semantic difference isn't as important as the actual delivery advantage of streaming.
The email to producers emphasizes streaming, and asks participating podcasters to avoide using the word "Download" in their marketing of Google Play Music podcasts: "We recommend avoiding the word 'download'," the email says. This is an important note, implying that Google intends to train its podcast listeners to stream exclusively.
In actuality, the difference between streaming and downloading is artificial. but there is a practical consequence that affects how advertisers view the opportunity to market within podcasts, and therefore influences the economic growth of the category. Audience metrics sold to advertisers are, by default, based on "downloads," even though that metrics can mean different things in different platforms that measure server activity differently. That's a lot of "different" when advertisers are trying to understand the value and audience reach of podcasts.
In that context, the download can be more problematic than the stream. A download takes the program off the meter, so to speak, before listening begins. So, listening behavior can't be measured at all — for example: starts and stops, incompletely plays, rewinds, or repeat plays.
If Google remains resolute about using a streaming model, and feeds back metrics to the producers, it will sharply differentiate from other podcast apps (particularly the dominant apple Podcasts app and iTunes) for all parts of the value chain — listeners, producers, and advertisers.
So the game is on … but with this tentative, beta-ish launch, it's more like batting practice than the first pitch.