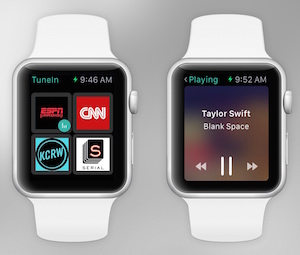 Friday is a big day for tech aficionados, as the much-discussed Apple Watch will finally arrive in stores. A new Apple device, even one as divisive as the smartwatch, is always cause for big buzz. In this instance, one of the notable topics is which services that we've come to expect on iPhones will be making the transition to the wrist.
So far, we already had reported on the news that Pandora would be a launch app. iHeartRadio also recently released a redesign that includes preparatory support for the Watch. And of course, iTunes Radio will be part of the Music app on the new gadget; we've already gotten a glimpse of the new iOS version of the software.
Shazam is another launch app, unsurprising given the company's close affiliation with Apple and previously announced plans to enter the wearables market. The app boasts some interesting new features. Auto Shazam is an option for continual music discovery and identification directly on your wrist. More involved actions, like buying a song or watching videos, use the tech's Handoff ability to make use of the iPhone too.
TuneIn joined the party today, announcing that it will be on the smartwatches from the first day. According to the press release, the watch version of the app will have the usual music controls (play, pause, and skip) on the Now Playing screen. It will also have a special feature for easy navigation between stations.
Along with the Apple Watch news, TuneIn also announced that it is adding support for Apple's CarPlay digital dashboard.