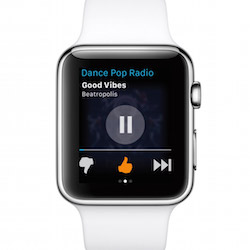 Pandora will be available on the Apple Watch from its debut on April 24. According to the press release, Pandora will offer intuitive interactions for listeners, even within the smartwatch's space and size constraints. People will be able to see music notifications and the Now Playing screen, which displays the artist and song that's on the digital airwaves, without turning to their phone screens. Volume can also be controlled directly with the watch.
Pandora is often a launch partner for Apple's mobile devices, including the iPhone in 2007 and the iPad in 2010. This participation with Apple's latest mobile offering is part of Pandora's mission to be a ubiquitous listening option. The press release touted the company's "commitment to being available whenever and wherever you want to listen to your favorite music."
Several streaming audio services have voiced interest in moving into the growing wearables market. Shazam expects to expand into the tech segment this year, and iHeartRadio is one of the apps already on the Android Wear smartwatches.