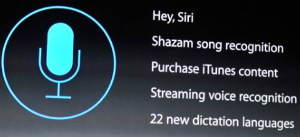 Apple kicked of its annual Worldwide Developer Conference today with the main event for non-professional Apple-watchers: the keynote. Anchored by CEO Tim Cook, supported by departmental leaders, the keynote traditionally previews Apple's future products related to its operating systems.
The WWDC keynote is important to online audio inasmuch as Apple's iOS mobile platform is where so much listening takes place. The tools that Apple (and Android, on the other side of the competition fence) provides help fashion how consumers bring Internet radio and online audio into their lives.
Unsurprisingly, given the close timing after last week's acquisition of Beats, a Beats personality made a quasi-appearance: Dr. Dre. Dre was brought into the event by phone. The rapper amusingly asked what time he should show up for work.
One point of anticipation was whether Apple would add music identification to iOS 8, the next version of iPhone, iPod, and iPad software. the answer is yes, and it will be hooked into Siri, Apple's virtual companion. Market leader Shazam will provide the technology.
This is an important distribution win for Shazam, which has accomplished quite a bit of business development this year. Apple mobile users will be able to identify music they hear from any source simply by asking Siri to recognize it, rather than opening the Shazam app (or that of ab also-popular competitor, SoundHound) and fumbling around to catch the song before it ends.
There was no information about what happens after the song is identified — specifically, whether the user can invoke Shazam's tight U.S. integration with Rdio for storing the playing identified music. With Beats Music now behind Apple's firewall, it is easy to imagine that Cupertino would prefer funneling users to Beats for storage and on-demand playback of Shazam-identified music.