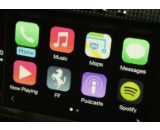 At its Spring Forward event, Apple announced that its connected car solution will appear in more than 40 new car models this year. The CarPlay software turns over a vehicle's digital dashboard to a simplified version of iOS 8 so that the driver can use voice or touch controls to access navigation, phone calls and messages, and music while on the road.
Here is a video review of the CarPlay system:

Where does radio fit into Apple CarPlay? CarPlay is nothing more than a reproduction and simplification of a smartphone in the screen of a digital dashboard. So, for most users, FM radio exists in aggregating apps like iHeartRadio and TuneIn. However, the automakers can bundle radio as a separate, dedicated app in their own digital systems (which run side-by-side with CarPlay), or even as a button/dial radio in the dashboard.
Apple had been slowly adding auto partnerships since CarPlay launched about a year ago. The software can also be used on certain dashboard models from Pioneer.
As expected, the recent event had no mention of Apple's relaunch of Beats Music. Any new plans for a streaming music platform are thought to be announced in the summer at WWDC.