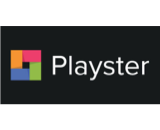 Playster has inked licensing deals for its planned streaming music revamp with Sony Music Entertainment, Warner Music Group, and The Orchard. B2B music specialists 7digital will be powering the redesigned platform.
Playster is a bundled entertainment platform. It has standalone subscriptions to online movies, audiobooks, games, and music. Members can pay for monthly access to individual services or combine all of them into a bundle for a cheaper cost.
"Our mission has always been to offer Playster members the absolute best in streaming and thanks to these exciting new partnerships, we're one step closer to creating the ultimate multi-media service," CEO Philip Keezer said. "We're proud to be able to offer great music from such a wide array of artists, both mainstream and independent, and advance closer to our ultimate goal, striving to make entertainment accessible, affordable and enjoyable for all."
While Playster is coming from a different starting point, the end result is a digital entertainment product that looks very similar to Amazon's. With Amazon's Prime membership, customers get access to streaming music, video, and audiobooks in addition to other perks in shipping for retail orders. Now Amazon is broadening its entertainment access, with plans for two standalone music services to join new video-only or audio-only subscriptions. With Apple Music funding original videos and Spotify now home to podcasts, we're seeing a definite trend toward offering all-in-one entertainment access.