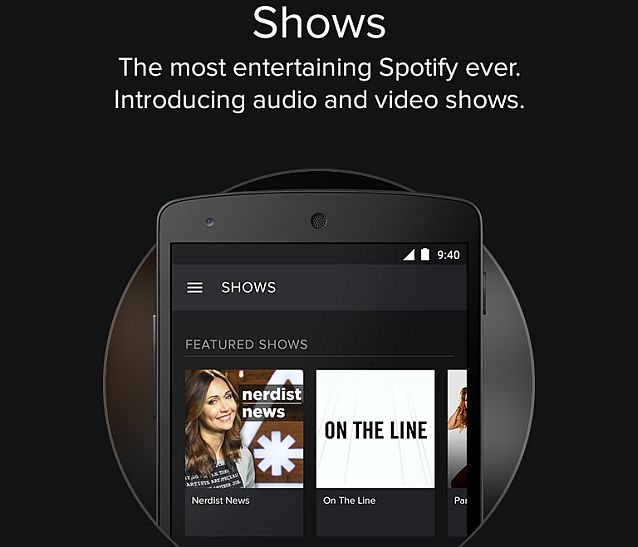 Last week we reported that Spotify's long-awaited video content, first announced last May, would finally appear in its mobile apps. Nothing of that sort came into our updated test devices last week, but yesterday we were pleased to find a portfolio of video programming, plus audio podcasts, in the freshly updated Android app.
Video and Audio
The video and podcast programming is bundled into a new menu selection within the Browse section, called Shows.
Shows is divided into Video Shows and Audio Shows. Video Shows are short excerpts of more or less well-known media brands — The Nightly Show, Inside Amy Schumer, ESPN, Jimmy Kimmel Live, The Daily Show With Trevor Noah, The Tonight Show, Adult Swim, Ellen, Tosh.O, Comedy Central Stand-Up — among others. the clips resemble YouTube distribution that many of the same brands engage in. For example, The Tonight Show presents its weekly Hashtags segment and four-minute interview segments with guests.
Watching excerpted content on Spotify resembles the YouTube experience through which millions of people interact with these media powerhouses — except (and this is crucial) the presentation is prettier and more coherent in Spotify's highly evolved and universally admired app interface.
Podcasts
The podcast content feels endless. We, at least, did not come to the end of it when scrolling down an auto-refreshing screen. You won't find Serial in here (because of that show's exclusive streaming agreement with Pandora), but you will find Stuff You Should Know, Welcome to Night Vale, Podcast:Nerdist, Criminal, BBC World Service Global News, WTF with Marc Maron, Radiolab — on and on and on.
We found that Spotify's Search function intersects with Shows logically, but rather unintelligently. Searching for Radiolab, for example, presents results in the accustomed Spotify order: Top Results, Songs, Artists, and finally Shows, where you find the podcast. The search engine is admirably impartial, but wouldn't it make more sense to put the podcast up top?
That's a quibble. Here is what's important. In an Android universe where podcast discovery is fragmented and generally in shambles (that's our opinion; your mileage might differ), Spotify offers a clean, attractive, familiar landscape in which to dig up and bookmark favorite shows. We can see Spotify Shows quickly becoming our go-to hub for tracking and listening to the podcast shows.
There is a limit to our advocacy of Spotify as a primary podcast discovery medium, though, and that limit is the catalog. Spotify does not appear to be pulling its directory from the iTunes API, and a search for a couple of obscure faves turned up missing. this is another quibble, of interest only to the deepest podcast consumers who probably have their consumption paths well established and personalized.
The Upshot
Here is the most optimistic upshot of Spotify's initial dive into podcasts. Bringing a hefty range of programming into a music app which is used and loved by many millions of users could significantly raise awareness and audience for the hottest category in online audio. At the same time, Spotify's presentation plants a stake in the ground of podcast streaming, helpfully serving to wrench perception away from the legacy perception of podcasting as a download medium, which many podcatcher apps perpetuate. (You can download the episodes for offline listening, just as subscribers to Spotify Premium can do with music. But Spotify as a whole is clearly set up as a streaming service.)
For now, pending longer-term testing, we are happily moving much of our podcast management and listening into Spotify, and out of some poorly-baked podcatchers on Android and iOS. Merging podcast management with Spotify music management could be an important convenience for millions of users.