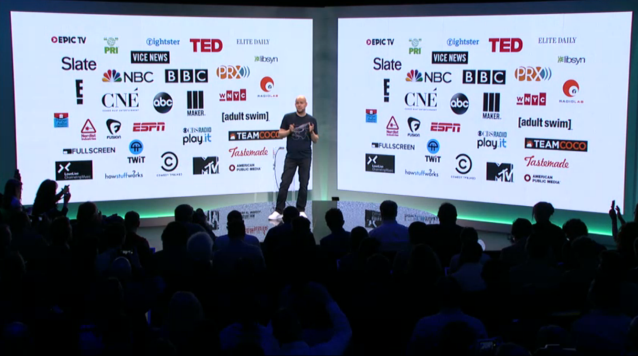 At today's Spotify Event, held in the company's New York office, CEO Daniel Ek and other senior leaders announced and demonstrated new features that will roll out in updated apps starting today. (We did not find the updated apps in either the iOS or Android store at posting time.)
There are three main parts of Spotify's announcement:
A dramatic increase in content types expanding Spotify into podcasts and videos
A new start page in the app called Now, which will program content based on lifestyle and activity
A new feature for runners that matches song tempo to running tempo
"We're a technology company by design, but a music company at heart," CEO Daniel Ek started off. He said the day's announcements marked "A massive leap forward for Spotify."
Non-music in Your Playlist
The biggest leap is the expansion into non-music content. Podcasts, audio programming from broadcasters, and video all are being introduced. Spotify has been working hard on business development, scoring a portfolio of new providers (see the photo above). The event audience was treated to a Comedy Central video of Broad City, starring Abbi Jacobson and Ilana Glazer, who then wafted onstage to deliver a five-minute standup routine.
The two comedians riffed about short-form video being better than long-form, and Ek also noted that this new programming component would be on the short-clip side. the intent seems to be mixing talk and video bits into the music stream, when desired, so it makes sense for non-music elements to be song-length.
Exactly how the algorithmic programming will happen was not explained, but it is clear that the Now starting point somehow determines what you're doing and how you're feeling, and delivers what you habitually like at that moment. The concept of total-life soundtracking was brought up more than once, with the promise that Spotify ("the new Spotify") will learn all about you and deliver a mixed-media stream of perfectly attuned content.
Interestingly, the addition of podcasts was announced one day after Deezer launched its integration of Stitcher programs into its music catalog. Deezer's Stitcher acquisition gave it an instant catalog of 20,000 shows. Spotify's BizDev approach seems more focused on hand-building a library with selected providers. Both product announcements indicate to the streaming audio industry that music services are changing, becoming audio services, and that spoken-word programming is taking a place of equal viability next to music.
For Runners Fast and Slow
The running feature is built on new technology that can sense the runner's footfall tempo, and match it to music — using Spotify's normal intelligence layers to choose tempo-sensitive music that the runner probably likes. As the run speeds and slows (think hills), the runner can tap the tempo button again to switch music. It takes about five seconds for Spotify to discern the running pace and start the stream.
Daniel Ek's talking points were carefully refined, with a revolutionary tone. "A profound change is happening in music," he said. "Discovery and collection have converged. It's happening on the phone. When people walk around with all music in their pocket, their entire thinking changes. Everything is changing as a consequence. Discovery and collection are converging, and soon there will only be listening, and it will be everywhere."
That sort of declaration is not music to the labels' ears, anticipating as it does the final collapse of music sales, replaced by music access. Ek noted that some Spotify power users run the app 16 hours a day.
Brand marketers were tossed a couple of talking points near the end. Daniel Ek noted that Spotify has been working with Nike on new opportunities for brand affiliation, including an audience crossover component in which Nike customers will be able to listen to Spotify playlists in the Nike app. (Summer rollout.) that sort of collaboration harkens to Spotify's announcement yesterday of a collaboration with Starbucks.
"We're in the early stages of a profound change in how people listen to music," Ek declared in his final moments onstage.  "Life with Spotify will never be the same. It will be better."