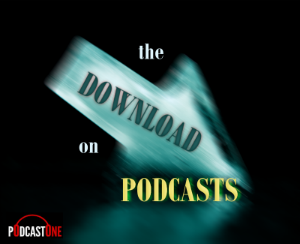 The Download on Podcasts is a weekly column sponsored by PodcastOne.
---
In the last week we've reported on a couple of financial investments in podcasting. First, Radiotopia scored a million-dollar grant from The Knight Foundation. And Swedish podcast-hosting platform Acast obtained a $5-million venture capital investment. Funding dollars are both chasing and driving the podcast resurgence that we've been tracking for a year.
Other types of investment are also happening, raising the podcast category to new levels of viability and potential. Audible, the audio subscription service which specializes in downloadable audio books, hired NPR's top content producer to a new role as SVP of original content.
Two other investments are coming to public fruition this week. First, Deezer's October acquisition of podcast app Stitcher is manifesting in the launch of Stitcher programs integrated into the Deezer music experience. Second, today's media event hosted by Spotify was anchored by the announcement of podcasts coming into the world's most popular on-demand music service.
Taken together, the Deezer and Spotify product launches represent a startling changed definition of "music service." Increasingly, audio publishers are serving podcast-type talk programming to their listeners, who, it is reasonable to suppose, will increasingly expect and demand that their favorite podcasts be available in their favorite music apps.
You might say that iTunes, which is primarily a music store and also the most important distributor of podcasts, has already changed that definition. But iTunes is a download store, not an on-demand streaming platform, so podcasting feels like it inhabits a few aisles of a retailer — like the CD section of Barnes & Noble. Mixing podcasts into mobile audio streams is an entirely different use case, with far-reaching implications for podcasters.
In March, Edison Research unleashed The Infinite Dial 2015, showing that one-third of American adults, about 83-million people, listened to podcasts. As seamless, automated streaming distribution of podcasts gains traction, how will those numbers rise this year? that's a tough prediction, especially as terminology loses its definition. Will a listeners know s/he is listening to a podcast when it is excerpted from a longer-form show and algorithmically introduced in a Spotify stream?
Challenges in audience measurement notwithstanding, the news is all good for creators and publishers. On-demand talk programming is drawing a seat up to the table.