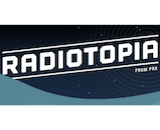 Radiotopia received an investment of $1 million from the John S. and James L. Knight Foundation. The podcast network will use the money to add to its portfolio of shows and to hire an executive producer. It is the second time that the Knight Foundation has contributed to Radiotopia's development; it also gave $200,000 in February 2014.
Radiotopia is an offshoot of PRX that began in November 2013 on the back of a successful Kickstarter campaign. While PRX focuses on marketing to public radio, Radiotopia's goal is on-demand online availability of excellent storytelling. It has grown from 900,000 downloads a month in February 2014 to 7.5 million monthly downloads today. It's show roster includes "99% Invisible," "The Allusionist," and "Love + Radio."
The Knight Foundation's mission is to create informed and engaged communities, so the ongoing and growing financial support it has supplied to Radiotopia is yet another nod to how podcasts have gained traction as touchstones for news and storytelling. It's just the latest such recognition of the audio format for a more established cultural organization; NPR's smash hit "Serial" was also awarded a Peabody this year, the first podcast to receive the honor.