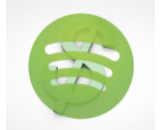 Digital Music News is reporting that Spotify may place some restrictions on its freemium listening tier. Unnamed sources have told that site that the free, ad-supported access could be limited to just three months under a new proposal. As laid out by Digital Music News, this plan would allegedly allow some of the independent or lesser-known artists distributing their work on Spotify the option of giving listeners free access for more than three months.
This is the type of change that labels and publishers have been pressuring the streaming service to make, and the leaders at Universal and Sony seem to be the driving force behind the rumored proposal. "But, in all reality, remember that [Sony Music Entertainment CEO Doug] Morris and [UMG CEO Lucian] Grainge aren't really asking as much as they're telling," one of the sources told DMN.
Warner Music Group has been more moderate in its approach to freemium. CEO Stephen Cooper recently spoke out about how streaming, even freemium, is still an improvement over piracy. His company was also the first to see revenue from streaming exceed that from digital downloads.