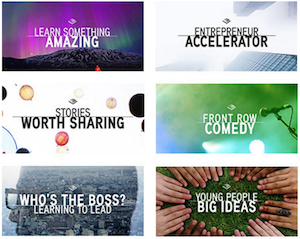 Audible has added a new subscription option called Channels that focuses on short-form audio content. The subscription includes original shows from Audible alongside and news and shows from publishers such as The Wall Street Journal, The Onion, and Scientific American. The Amazon-owned platform has a long-standing audiobook subscription, and those members will automatically get access to Channels, but the Channels is also available as a standalone subscription for $4.95 a month.
Audible is dubbing the Channels shows "unlimited short-form digital audio." Eric Nuzum, Audible's senior vice president of original content development, has intentionally chosen not to use the word "podcast," telling The Wall Street Journal that he finds that term limiting.
However it's defined, producers of both podcasts and short-form digital audio alike are working on ways to turn a growing audience into a viable business model. Publishers and networks such as PodcastOne and Acast have also been experimenting with how to turn audio subscription into a regular revenue stream.