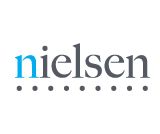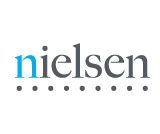 After years of development and months of teasers, Nielsen formally launched its streaming measurement service, branded Nielsen Digital Audio Ratings. Part of Nielsen's broad Total Audience enterprise, which aspires to deliver comprehensive audience measurement across over-the-air and Internet television and radio, the new service offers analytics to Nielsen-subscribing radio stations that sell advertising across the digital divide.
Long Time Coming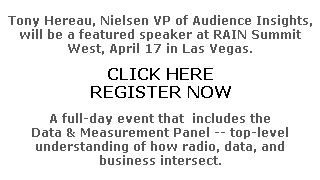 There is a lot of "finally" and "at last" in the early media coverage of NDAR (our abbreviation, not used by Nielsen in its announcement). That's because the technology has been baking for a couple of years, and has been rolled out incrementally for testing. As early as September, 2014, Nielsen SVP Jeff Wender told the RAIN Summit Indy audience that the product was ready to go, and to await announcements.
Those announcements began peppering the news as Nielsen integrated its measuring technology into different streaming platforms and players. WideOrbit, jacAPPS mobile apps, and TuneGenie streaming players were among the recipients of Nielsen certification. The integration process was anchored by embedding a Software Development Kit (SDK) into the selected players — SDK are bundles of code which perform new functions and usually can be customized. For example, Apple and Google give SDKs to app developers, who create mobile experiences on the Android and iOS platforms respectively.
The multiple announcements of Nielsen digital measurement turned "SDK" into an audio-industry buzzword — really a euphemism for "Nielsen's digital measurement product that everyone is curious about."
Facts
With this week's formal launch, some of the curiosity is satisfied with facts:
Nielsen Digital Audio Ratings works across all web players, mobile players, and devices.
NDAR is currently measuring 2,500 webcast streams, and is active in all Portable People Meter (PPM) markets.
The service is currently for terrestrial radio stations only. It handles linear simulcasts, simulcasts with custom ad injection, and pureplay listening apps and services created by radio stations.
On-demand audio is in the works, Nielsen says, but it is unclear whether that includes independent podcast networks or only podcasts under a traditional radio umbrella. (RAIN News has reached out to Nielsen for clarification on this and other points.)
The new service is not without competition. In October, Triton Digital, the incumbent analytics firm for webcast audience measurement, signed iHeartMedia, the country's largest radio group, to its Webcast Metrics Local system.
By the Minute
Nielsen is introducing a new metric. Along with the venerable AQH (Average per Quarter Hour), Nielsen Digital Audio Ratings will measure AMA (Average Minute Audience).
Going granular is possible due to the inherent precision of digital measurement. Tracking streams uses census reporting (counting individual streams at the server level) rather than survey reporting, which requires PPM or diary polling of in-market individuals and extrapolating ratings from those samples.
Speaking of diaries, Nielsen mentions that in the future the service will expand beyond PPM populations to diary markets. Is this segregation of markets artificial? Not really, when you remember that this venture is about total audience, so Nielsen is starting with radio in cities where measurement over-the-air measurement is already strongest, the better to create a total audience picture.
Two Months Free
The business plan is to provide February and March ratings at no charge to the stations already hooked up during the testing period. Starting with April numbers (released an mid-May, stations will need to subscribe. Licensed stations will be able to see not only their own metrics, but those of other subscribers, for a competitive view.