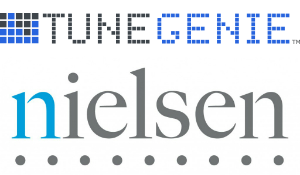 TuneGenie, a provider of streaming audio players for audio publishers, announced that it received certification for Nielsen's streaming measurement solution.
The announcement marks a third extension of Nielsen's audience measurement technology for streaming audio. In February, Nielsen's client side tech received its first publicized implementation in WideOrbit's Clarity platform (since renamed WO Streaming). Earlier this month, mobile app provider jacapps announced its integration of Nielsen technology.
Matt O'Grady, EVP and Managing Director at Nielsen, praised the TuneGenie deal as a stepping stone to a broader role in measuring streaming audio. "We are pleased to be working with TuneGenie as we move towards providing a holistic and comprehensive view of the audio marketplace."
Nielsen provides an SDK (software development kit) that can integrate Nielsen's measurement technology in a client (streaming player, such as provided by TuneGenie). Doing so provides streaming ratings to publishers using that player. As an example, TuneGenie cited Connecticut-based radio group Connoisseur Media, whose 27 streaming music webcasts will receive Nielsen audience measurement going forward.
Nielsen's value proposition, as it moves incrementally into streaming audio measurement, is integrated ratings across the broadcast/digital divide. At RAIN Summit Indy last September, Nielsen SVP Jeff Wender said that streaming measurement was a high priority for the company, and that the technology was complete.