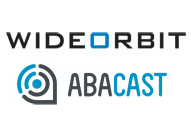 Ad management company WideOrbit announced that its Clarity platform, which offers streaming, ad injection, and audience measurement to audio publishers, will be the first distribution partner for Nielsen Audio's newly developed streaming audience measurement technology. Nielsen data will be available to Clarity customers who use its streaming solution. The Clarity platform was developed by WideOrbit's wholly-owned subsidiary Abacast, which it acquired in May, 2014.
In a conversation with RAIN News, Rob Green (WideOrbit VP Streaming) and Jim Kott (WideOrbit SVP Products and Marketing) said that Clarity underwent a certification process from Nielsen to qualify it for embedding Nielsen's audience metrics. The integration will occur by means of Nielsen's SDK (Software Development Kit). "We are essentially bundling their software in our software so that our customers can get Nielsen data," Rob Green said.
Clarity will continue to provide its own audience measurement of its client streams, in addition to Nielsen's. Jim Kott emphasized the importance of adding an independent view of audience metrics. "We've always thought there is an inherent issue when you're measuring what you're producing, like grading your own homework. This is a true independent measurement, third-party measurement."
For several months Nielsen Audio has sent signals that its measurement technology for streaming is fully baked. At RAIN Summit Indy in September, Jeff Wender (SVP, Digital) said, "Measuring digital audio is one of our biggest priorities." A week later, Nielsen president Steve Hasker addressed an investor meeting, indicating that the underlying technology was complete: "There is no road testing or app development that needs to take place — it's done," Hasker said.
In April of last year, Nielsen SVP Farshad Family sketched the technical plan for measuring online streams. Part of that plan was putting the measurement near the point of consumption — in other words, in the stream player. That is what's happening with the Clarity integration, which broadens exposure to Nielsen streaming metrics beyond radio stations that were testing the system.
"We're excited to be the first platform to incorporate Nielsen streaming measurement," Jim Kott told RAIN News.
Rob Green noted an industry trend. "This is another example of the growing importance of digital monetization," Green said. As budgets are shifting to digital, having an independent organization provide data means that the dollars are going to flow into the segment more easily and faster."